Sherbourn 5/1500A Setup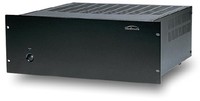 Multi channel amplifier choices seem to be endless these days. In a market flooded with a multitude of brands and models, it can be a difficult choice for a consumer to select the optimal product to suit their needs. Sherbourn however makes this choice quite simple with their latest five (5) channel power amplifier offering. For a mere $2000 you get a combined total of 1000 watts or $2 / watt in 8 ohms, or $1.33 / watt in 4 ohms. This price / power ratio makes the new Sherbourn 5/1500A one of the best values on the market. According to Sherborn, the 5/1500A incorporates electrical tweaks for sonic performance enhancements over the original and highly successful 5/1500 predecessor. In addition, the 5/1500A includes XLR balanced inputs and the ability to rack mount the unit via the front panel. With this refined model (over the previous 5/1500 at least), the Sherbourn amplifier offers a new breed of power amp to the audio enthusiast. This 80-lb, 200 watt/channel, 5-channel powerhouse is packed with a wealth of electronics to guarantee sufficient power and refined sound quality for any home theater system.

The 5/1500A' s chassis is also available in a two-channel version. Model 2/600A (retail is $1250.00) can be used as a straight 200 watt per channel 8 ohm (300 watts at 4 ohms) stereo amplifier or as part of a 7.1 system. There is also a model 1/300MB mono block (retail is $650.00) which is literally one of the 5/1500A's modules housed in a separate chassis. Two 1/300MBs can be bridged into 8 ohms to output 400 watts.

Set-Up
I initially wanted to demo this new amplifier on my brother's home theater system, which is very similar to mine, because he was lacking a good 5 channel power amplifier and I wanted to convince him on the merits of owning one. Removing this metal monster out of the box wasn't easy for my brother, since he is not a bodybuilder and has limited strength capabilities. Being the good Samaritan that I am, you know assist the weak, I volunteered to hoist the amp up on his shelf for him. Connection to the preamp and speakers was quite simple, as the connectors and ergonomics were well laid out.

When I powered the unit on, I noticed a buzzing sound from all of the speakers. I disconnected the other 3 terminal devices of his system such as the preamp and subwoofer, and noticed the buzzing remained; leading me to believe the problem could be within the amplifier. What I actually discovered was that the problem was not within the amplifier, but within the electricity of my brother's house. I connected a 3 to 2 prong adaptor to the power amp and resolved the buzzing problem. It turned out that my brother's home had a pesky ground loop that you always hear about but think it will never happen to you. Going forward, I resolved his electrical problem by securing a better earth ground between the two outlets he was using for his home theater system.
The Sherbourn 5/1500A gets my Quality of Parts Approval.
Go to the next pages to find out why.