Sherbourn 5/1500A Company Overview
| | |
| --- | --- |
| Associated Test Equipment | Description |
| RBH 1266-SE with Status Drivers | Main Speakers, 3 way Tower |
| RBH 661-SE with Status Drivers | Center Channel |
| RBH 61-SE with Status Drivers | Rear Channel |
| RBH 1010-SEP | 350 watt dual 10" powered subwoofer |
| Panasonic DVD A310 | DVD Player |
| Sonic Frontiers | Anthem AVM-2 DD/DTS Preamp Processor |
| Monstercable | 12 AWG |
Brief Company History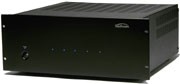 Sherbourn was founded in 1998 by Ron Fone and Engne 'Tang'. The partnership is purely synergistic with 'Tang' heading up all aspects of design, engineering, manufacturing and technical support and Fone doing likewise for all commercial functions. 'Tang' was originally involved in engineering design with established audio companies such as NAD¯ and Proton¯. In 1983, he moved to the USA and joined forces with Acoustic Research¯, then headed by Fone, to manage the engineering development of an electronics line. 'Tang' formed his own company in 1993, where he primarily designed subwoofer power amplifiers for some of the most well known companies in the industry.

Ron Fone, originally from England, moved to the USA in 1979 and for the next eight years presided over Acoustic ResearchTM. His involvement in the industry includes heading up TeraTM (a high end video company) and McIntoshTM, where he is credited with taking the famous company from its traditional two channel posture into the exciting world of multi channel home theater. After a period at A/D/S/TM where he again inspired many innovative products, he and 'Tang' began discussing their long cherished dream of starting their own company. In 1998, they founded a small and personable high end audio company that is known to us today as Sherbourn.
When you call Sherbourn, you don't get the typical answer machine, voice mail system, or even a secretary. Instead you get to speak personally with founder Ron Fone or a member of his technical staff. This is a quality not common today with audio companies. Then again, Sherbourn is not a common audio company. Continue to read on to find out why...