Rotel RMB-1085 Build Quality
There are few names that are both as well known and associated with high-end as Rotel. They have a reputation for quality and power and great aesthetics. We haven't done a Rotel review around here in quite some time so we were all excited (and lined up) when they expressed an interest in having their new Class D RMB-1085 amp reviewed. Somehow, through a combination of luck, bribery, and begging, I got the review sample, shipped overnight no less.
Build Quality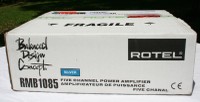 Opening up the RMB-1085 box, it is easy to see that they care about whether the amp arrives undamaged. Even though "digital" amps are notoriously lighter (because they are much more efficient that traditional Class A or A/B amps and don't require the massive heat sinks typically found in linear amp designs), it was still packed extremely well. There is both a top and bottom foam cap that completely surrounds the amp protecting it from all sides. The cables are tucked in the back between the foam and box (not touching the amp at all) and the amp is sheathed in a plastic bag to help protect it from the elements. The manual was on top of the amp and was held down tightly enough that is was still perfectly center on the top of the amp when I removed the top foam cap.
The RMB-1085 is a thin, fairly light (under 12 lbs.) unit that I had no problems palming as I was moving it around. The front face is a light grey with only a single power button and two lights. The blue light indicates power and the red a fault of some kind when the unit is powered on or standby mode when it is powered down. The only other adornment to the front of the unit is the Rotel logo and model number on the front and an embossed logo on the top. The unit stands less than 3 inches high.

The rear of the unit has five RCA style inputs and five sets of 5-way binding posts. There are no balanced inputs for this amplifier. The rear also sports a removable power cord, a 12 volt trigger input and output, and an on/off switch for the 12 volt trigger. The right main and surround were grouped as was the left main and surround. The center channel input and outputs were alone. The only point on concern here was that with the grouped inputs, the positive was always on the outside with the negative in the center forcing you to switch the order of the speaker cables. Rotel stays that they do this to reduce the chance of shorting positive to negative. The 12 volt trigger is used to turn the amp on and off automatically when another piece of gear is powered up. Setting the switch to "Off" ensures that the amp is only turned on manually while in the "On" position, the amp is looking for input from the trigger input.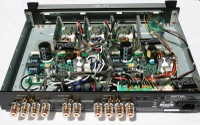 Cracking open the amp, we can see just how compact the Class D amps are. No where to be found is the huge toroidal power supply we see in Class A/B amps. Instead, just three small circuit boards with minimal heat sinking. The power supply is an SMPS type with two switchers and the amp section consists of three two channel modules, one of which apparently isn't being used in this design. While I understand that 6-channel amps tend to confuse people, the lack of use of this 6th channel seems wasteful to me. Of course, for $400 more you can pick up the RMB-1076 which activates this 6th channel, adds the input and output, and three level knobs on the front. The 1076 seems to be more tailored to audio distribution with the lower quality binding post and volume controls but we're willing to bet that the internals are nearly identical. The top of the RMB-1085 has vents for cooling but there is no fan. Since switching amps are much more efficient than conventional amp designs, this is to be expected.
About Class D or Switching Amps and SMPS Power Supplies
Class D or Switching amps are sometimes mislabeled "digital." This is perhaps in part due to the "D" in the name. Really, it isn't any less analogue than other amp types but it utilizes an "on/off" typology rather than "as needed" for A/B amps. This makes them much more efficient but can introduce more distortion than other amp typologies. Initially, switching amps weren't considered of much use for home theater other than for subwoofers because they were susceptible to non-linearity based on the impedance of the speaker. In recent years, Switching amps claim to have overcome this limitation and so far have received a somewhat positive welcome by the home theater community. For more information, please read our article The Truth about (Class D) Amplifiers.

SMPS (Switched Mode Power Supplies) are smaller and more efficient than traditional linear power supplies but typically are noisier and have less headroom. SMPS transformers run at higher frequency than linear power supplies which is why the transformer can be much smaller.  But, they are also more challening to produce clean power for audio applications which is why they are usually reserved for PC and car audio or any application where space, efficiency and cost are the three primary concerns.
The Rotel RMB-1085 is a good looking amp with a very clean face. The light grey of the front means that unless you have other Rotel gear it will probably stand out. Luckily, the lights on the front aren't of the "nightlight" variety that we see so often with some gear. There is no way to dim them but it wasn't really needed in my room. It was the one piece of gear that both of my sons and my wife noticed the first day I set it up. It just looks that different from everything else.
Tom Andry posts on June 16, 2008 12:09
I personally don't have the equipment to measure amps. Usually, we'd try to send it down to Gene's but he's been busy with other amp and receiver measurements. I understand there there are some issues with measuring Class D amps that may put it on the it on the "we'll try but don't hold your breath" list.
jcPanny posts on June 13, 2008 10:02
Tom,
Nice review. Any chance of getting some power and distortion measurements on the Rotel amp. As you point out in your article, linearity and low distortion have been a chanlange for calss D amps in the past.
Haoleb posts on June 13, 2008 03:22
Reading that and seeing those pictures of the unit definetly just kicked Rotel down a couple notches in my book. For that price the build quality seems to be lacking. If i am spending over a grand on a single component I expect something nicer than stamped chassis. I'll be the first to admit I am not a huge fan of SMPS or these newer amplifier technologies, Its not exactly eye candy under the hood
mike c posts on June 12, 2008 22:02
nice to see Rotel back on the reviews.

these new Rotels have lower-model ice modules as compared to the ice modules on my 1077 (which I'm using for 2 channel listening, til i get a center channel) which is why these new ones are cheaper.