Orb Audio Booster Mini Amplifier Preview
Summary
Product Name: Booster
Manufacturer: Orb Audio
Review Date: November 18, 2011 08:45
MSRP: $188 (currently on sale for $164)
First Impression:

Gotta Have It!

Specifications

4 stereo inputs (2 RCA, 2 Mini Headphone)
Professional quality speaker connectors
Easy to use remote control
Subwoofer output
Small / Large speaker size selector
Beautiful extruded aluminum cabinet
20 watts per channel
Size 6" W x 6" D x 1 3/4" H
Executive Overview
If you knew how often we are asked for recommendations, you'd be shocked. Well, maybe not, but it happens a lot. One of the oft asked questions is how to get decent sound into a place like an office. Many people (at least many people that are regular readers of Audioholics) have extra speakers lying around. Maybe it was part of their very first Frankenstein surround sound system. Maybe they are hand-me-downs from their dad or uncle (or aunt, we're not being sexist here). Or maybe they upgraded their main system and their old speakers are just hanging around.
If this sounds crazy to you, hang around in our forums for a while. You'll see it is a pretty common occurance. And if you hang around long enough, it'll happen to you too.
So when we caught word of Orb Audio's new Booster Mini Amp, we couldn't help but be interested. Taking a quick glance at the front, you can see exactly how awesome it would be for an office setup. You have your power and volume buttons, a clipping indicator, and a mute button. There are four green lights next to a button presumably to switch between inputs. There is even an IR receiver that is nearly as big as the buttons. But what the above picture doesn't convey is the size: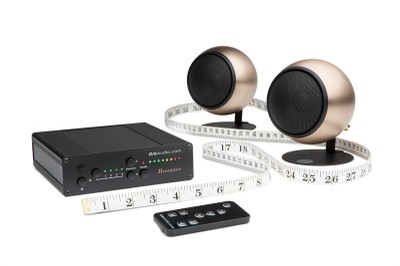 Yeah, of course since it is an Orb Audio product, they show it will Orb speakers but look at the tape. The Orb Audio Booster Mini Amp truly lives up to its name at 6" wide by 6" deep by a scant 1 3/4" tall. That's tiny! It only puts out 20 watts per channel but you'll bee sitting nearfield so it won't likely matter. This tiny box could fit nearly anywhere on your desk including tucked under your monitor.
Orb Audio brags that the Booster sports "professional quality" speaker connectors. This sounds good until you see them. The small green connector is well known (and hated) among professionals. It requires a bare wire connection which you lock in place with a small screw (lock is too strong a word - it is more like you torque it down as hard as you can and try not to move the wire too much because any sharp movement will pull it free). While we understand the need for space saving on such a small device, we really wish Orb has figured out a way to include some real binding posts back there.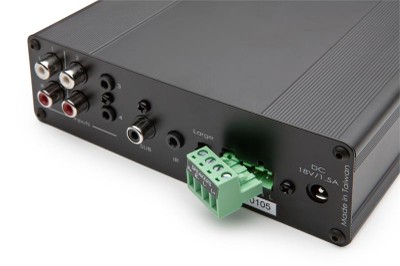 We were particularly impressed to see four inputs (two RCA analogue and two 3.5mm) plus a subwoofer output. Hard to see in the picture above is a switch that sets your speakers from Large to Small presumably to enable or defeat an internal crossover (hopefully set at 80Hz). A subwoofer output allows for a full 2.1 system and an IR input allows you to add the Booster Mini Amp to your universal remote setup.
Missing is any sort of digital input like coaxial or optical which would be helpful in connecting some TVs and devices like Apple TV. Also lacking is any sort of balance control, something we practically require on office solutions as speaker placement can be problematic. Also missing is an outrageous price tag. At $188 MSRP and $164 currently, the Orb Audio Booster is practically a steal for an office setup.
Conclusion
What is a small amp for your office that allows you to connect not only your computer but three additional sources worth? Our minor complaints aside, the Orb Audio Booster Mini Amplifier looks to be a dynamite little product. We're dying to get one on our test bench to see how it holds up. We're constantly looking for good recommendations for office setups and the Booster Mini Amp looks to fit the bill nicely.
For more information, please visit www.orbaudio.com.
its phillip posts on November 18, 2011 10:56
It does look pretty handy. Hopefully the crossover is 80hz (or better yet, adjustable), but I would imagine it's something like 120hz or 150hz considering the specs of the Orb speakers. Definitely not a fan of the speaker wire connector - even spring clips would have been preferable.