Onix Melody SP3 Tube Integrated Amplifier Review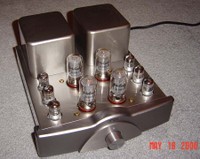 Onix Melody Tube Integrated Amplifier
Summary
Product Name: Melody SP3 Tube Integrated Amplifier
Manufacturer: Onix
Distributor: AV123
Performance Rating:
Value Rating:
Review Date: April 29, 2006 20:00
MSRP: $ 999
Specifications

Power Output (8ohms): 38 watts per channel
Frequency Response: 20 Hz to 20,000 Hz
Total Harmonic Distortion (at rated output): 1%
Amplifier Topology: Class AB
S/N Ratio: > 90 dB

Input Sensitivity: 380 mV
Input Impedance: 250 k Ohms
Amplifier Power: 4 or 8 Ohms
Dimensions (HxWxD): 8.1"x11.9"x13.25"
Weight: 56 lbs
Pros
Smooth treble and warm midrange.
Good bass output for power rating.
Solid build quality, heavy.
At maximum output, sound is still tolerable.
All of the sonic advantages of tubes.
Cons
Bass is not as tightly controlled as with comparable solid-state gear.
Roll off in the upper treble.
Low wattage limits maximum output.
All of the sonic shortcomings of tubes.
Introduction
Onix is one of several brands exclusively distributed through AV123, and manufactures both loudspeakers and electronic components, such as CD players and integrated amplifiers, for sale through the site. The Melody SP3 is intended as a high value product aimed at budget minded Hi Fi enthusiasts who dream of esoteric gear but are grounded by simple economics.