Onix A-120MKII Measurements and Conclusion

The Audio Precision revealed one reason I was hearing authorative bass impact and a warm sonic signature. There was a +2dB bass boost built into this amplifier out to about 200Hz or so. This was obviously a deliberate design attribute which can also be inferred by their published frequency response specification from 20Hz to 20kHz +-1dB. I can't really fault them since it was in fact intended and I did find it pleasing to the ear despite it not being the normal ruler flat response typically found on most consumer gear.


Distortion at 1 watt was respectable (+8.332+68.583)dBv = 76.915dBv or 100*alog(-76.915/20) = .014%.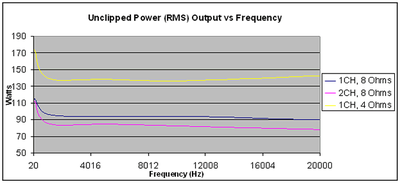 At full unclipped power, the Onix A-120 M KII delivered about 116wpc into 8-ohms but with the caveat of it being a function of bandwidth. From 20hz to 200Hz it delivered about 30Vrms (116wpc) via 8-ohms for .1% distortion and 26Vrms (85wpc) at 1kHz when fed the same input signal level but at a much lower distortion level. Into 4-ohms the Onix A-120 M KII delivered about 170wpc at .1% THD from 20Hz to 200Hz and roughly 115wpc for the rest of the audible spectrum. Since Onix doesn't specify distortion over a specific bandwidth for their power specifications, we can't declare they didn't meet them. We didn't run into any situations where we felt the amp was short of power during our listening tests.


Distortion at full power was good, though higher order harmonics were more pronounced; (+28.328+49.048)dBv = 77.376dBv or 100*alog(-76.915/20) = .014%.
Signal to Noise Ratio at full power was -103.57 dB below 29.70 dBV Reference Level (at 0.09 % THD+N) <10 Hz - 22k Hz bandwidth, no option filter. With 200mV in, 1 watt out the SNR was found to be 80.4dBrA which is decent performance of a product in this price class.
Conclusions & Recommendations

I won't try to lead you into believing the A-120MKII is without limitations or that you can throw your bulking monoblocks away in favor of this little nugget. However, based on the Onix A-120MKII's effortless drive capability, bass impact, well extended soundstage and low noise floor, I would recommend its no frills build and sonic signature to anyone looking to assemble an affordable, space saving, quality two-channel system. It is especially well-positioned for small to medium sized rooms with moderately sensitive speaker systems having rated nominal impedances of even 4-ohms. If your tastes lean towards a warm "audiophile" sonic signature and you prefer simplicity of operation over the latest and greatest features, this amp is definitely worthy of consideration.
The Score Card
The scoring below is based on each piece of equipment doing the duty it is designed for. The numbers are weighed heavily with respect to the individual cost of each unit, thus giving a rating roughly equal to:
Performance × Price Factor/Value = Rating
Audioholics.com note: The ratings indicated below are based on subjective listening and objective testing of the product in question. The rating scale is based on performance/value ratio. If you notice better performing products in future reviews that have lower numbers in certain areas, be aware that the value factor is most likely the culprit. Other Audioholics reviewers may rate products solely based on performance, and each reviewer has his/her own system for ratings.
Audioholics Rating Scale
— Excellent
— Very Good
— Good
— Fair
— Poor
| Metric | Rating |
| --- | --- |
| Frequency Response Linearity | |
| SNR | |
| Measured Power (8-ohms) | |
| Measured Power (4-ohms) | |
| Multi-channel Audio Performance | |
| Two-channel Audio Performance | |
| Build Quality | |
| Fit and Finish | |
| Ergonomics & Usability | |
| Features | |
| Performance | |
| Value | |