PM-11S1 Listening Tests - Full Range
Listening Tests - Two-Channel System with RBH Sound T30-LSEs
We were fortunate enough to listen to this amp in more than one setting. The second setting, where we were also able to run some product comparisons, allowed us to hear the PM-11S1 in a truly full-range two-channel system with integrated subwoofers - all powered by the single Marantz integrated amplifier.

Patricia Barber: Modern Cool SACD
A 'dry' snare drives through the song along with raw cymbals and a main lyric that delivers itself with a soft, gentle reverb that virtually slides off Patricia's vocals. To call Patricia Barber's voice "sultry" is an understatement. A blaring trumpet punches through after the verse and provides a melodic, jazzy line which interacts with the drum kit. This was a wonderfully animated song and we enjoyed every second in the Audioholics Reference System 1 treated room listening to it through the full range RBH Sound T-30LSE speakers. "She's a Lady" has a pervasive finger snap throughout that carries its own natural, smooth decay and an acoustic bass provides a supporting undertone that nicely backs the main vocals. The bass is played with authority and you could hear the fingers on the strings as the notes sailed through the air. I could have listened to this track all night.

Dianne Reeves: Never Too Far CD
Gene introduced me to Dianne Reeves and I couldn't be happier. Without waiting a moment, track 1 "Hello (Haven't I See You Before)" launched us into vocals which were almost hyper-clean with cymbals that authentically recreated that crisp top-end heard in a studio recording session (before they get killed in mastering). The tight kick drum punched through the T30-LSEs subs and really made this full-range 2-channel system shine. I couldn't get over how much top-end was coming through in pristine detail - all without the fatigue that occurs when compression and distortion are evident. Tracks 4 "How Long" featured a plastic wood block sound that ringed out through the intro and had a most natural decay. Bass was very percussive complete with edgy finger detail and slapping sounds and the kick kept time with a nice, natural snap that was powerful yet crisp. Percussion was well-placed within the soundstage and the performance came into the room as Dianne's vocals imaged perfectly - in front of the instrumentation and backing vocals.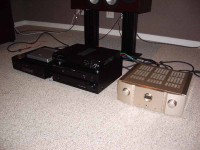 We decided it was time to run some comparisons to see what profound differences we would hear when running the PM-11S1 against some admittedly odd competition. It was a clear demonstration of how amplifiers do indeed sound very different from one another - especially when comparing a high-end system with a mid-fi system, and more so when comparing to an entry level product that exhibits more distortion than a Metallica concert. In comparing between the Yamaha RX-V2700 and the PM-11S1 the general description would be that the RX-V2700 sounded warmer, with looser bass and slightly less clear highs. The Yamaha still sounded good, but the Marantz was mind-blowing. For fun, we also connected the cult-status "audiophile" $200 Panasonic SA-XR50 receiver for an A-B-C level-matched comparison. The difference was now amazing. Nearly gone was the gentle reverb that followed the plastic wood block in Dianne Reeves' "How Long" track. As near as we could figure, this was due to the high output impedance (almost an ohm) as well as the increased noise floor of the poorly designed Panasonic digital amplifier. To be fair, having this low profile receiver driving a pair of T30-LSEs wasn't exactly a fair match in anyone's book, but surprisingly some "audiophiles" do this very thing and proclaim sonic nirvana. It was a fun, non-technical comparison but an educational one nonetheless.
cosmin.batica posts on July 08, 2011 06:44
I always admired Marantz gears. I listen to PM-11S1 and it's indeed a very good amplifier.
But I recently own the PM-15 model (the original one - 1994, not current PM-15S1 or PM-15S2 model) and I must say it's a truly high-end masterpiece. Far better than any of other integrated that Marantz ever made.
cornelius posts on June 23, 2007 08:34
Great review! Thanks!
I liked the amp comparison, really helps appreciate the quality of a great piece of gear.
mattburk posts on June 22, 2007 21:52
So, moderator. what would you pick: 1. Parasound jc-2 and mono blocks or 2. Marantz ma-9s2 & SC-7s2.
mattburk posts on June 19, 2007 23:01
great read. I have been eyeing the high end marantz gear for a while but I have yet to see a review. I hope you review there separates next & compare them with the likes of classe, parasound, plinius and ps audio.