Emotiva XPR-2 Stereo Reference Power Amplifier Preview
Summary
Product Name:

XPR-2 Stereo Reference Power Amplifier

Manufacturer:

Emotiva

Review Date:

December 18, 2012 06:15

MSRP: $1699 (currently on sale for $1449)
First Impression:

Pretty Cool

Specifications

Discrete, dual differential input on each channel.
Fully complimentary topology.
Ultra high current, triple Darlington output stage.
18 high performance 250 watt output devices per channel, for a total of 36.
Effortlessly drives complex speaker loads with ease; stable with virtually all real-world speakers.
Optimized Class H™ power supply with high operating efficiency and 2.5 kVA toroidal transformer for exceptional power reserves.
Independently switchable balanced (XLR) and unbalanced (RCA) inputs.
Audiophile-grade, gold plated, super heavy-duty speaker terminals and machined RCA input connectors.
Multi-element 25 mm CNC milled billet aluminum faceplate.
Variable intensity accent lighting and user-selectable stealth illumination mode.
LED bar graph metering system with selectable ballistics; VU and peak reading with auto release.
Channel status LEDs indicate high temperature and fault conditions.
Soft touch power button with in-rush limiting.
Trigger input and output for linking to other trigger-enabled equipment.
Switchable AC line voltage operation—115 VAC or 230 VAC /50-60Hz.
Executive Overview
A while back, we previewed Emotiva's XPR-5, their new five-channel reference amplifier. This time, we are taking a look at the XPR-2, the stereo version. When you step up to the level of components that usually inhabit the "reference" line, you expect two things—high price and high performance. At $1699 list and $1449 on sale currently, the XPR-2 isn't the most expensive offering out there by a long shot. It is a good deal higher than the other budget Emotiva offerings, but not considerably so. So the question comes down to performance. What does $1450 worth of stereo amp get you from Emotiva?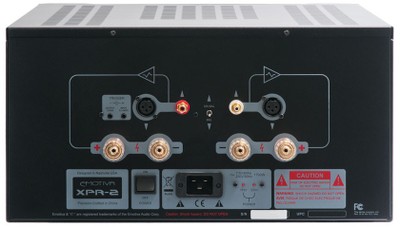 Emotiva XPR-2 Backview
To start with, you get 600 discrete watts into 8 ohm both channels driven or 1000 watts into 4 ohms. That's a huge amount of power. It sports a 2.5 kVA toroidal power transformer which alone weighs 30 pounds. This is connected to a 240,000 uF low ESR capacitor bank feeding a pair of optimized class H power amplifier modules. Class H assures high efficiency and low heat, meaning more of the power from the wall outlet is converted to watts to your speakers than conventional Class A/B designs. According to Emotiva, the XPR-2 "Effortlessly drives complex speaker loads with ease; stable with virtually all real-world speakers." All in all, the XPR-2 is 17" wide, 9.5" high, 19.5" deep and weighs in at 100 pounds—an amplifier not for the weak of back.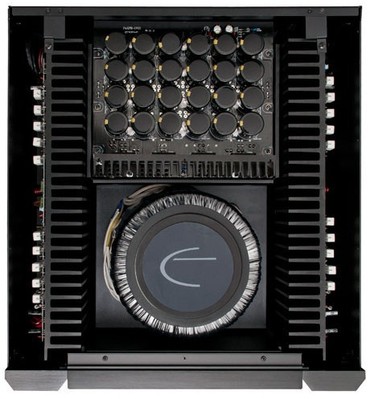 Emotiva XPR-2 Top View
The front of the XPR-2 has dimmable blue lights with a fully controllable LED bar graph metering system with selectable ballistics; VU and peak reading with auto release. There are also channel state LEDs which indicate high temperature and fault conditions. The soft touch power button powers on the unit while in-rush limiting protects your gear and speakers. The front of the XPR-2 features a precision machined, 1" billet aluminum, multi-element faceplate with laser embossing and hand polished detailing. This is truly a reference quality amplifier.
The back of the XPR-2 has independently selectable balanced (XLR) and unbalanced (RCA) inputs for both channels. The Emotiva speaker binding posts have clear acrylic insulators and heavy duty gold plated contacts. There is a button to select 115 VAC or 230 VAC for worldwide use. Due to the high current in the power supply, you have to select the mains voltage with a switch. Emotiva does not use the auto-commutator on the XPR Series. Nearly all models self select, and ALL products are "world" products, designed for use in all markets.
There is also a trigger input and output. The only downside to the XPR-2, other than the weight is the power requirement. From their website:
The XPR-2 requires a 20 Amp circuit and standard IEC 20 Amp outlet (which is different than a 15 Amp outlet). If you don't have a proper circuit and outlet, we recommend you have one installed by a qualified electrician. We recommend that the XPR-2 be plugged into its own dedicated 20 Amp circuit.
While many audiophiles may have 20 amp circuits run to their home theaters, most enthusiasts do not. In addition, it is rare that enthusiasts have more than one—and Emotiva wants the XPR-2 to, ideally, not share with anyone else. For those looking to step up to this level of performance, however, it may be a small price to pay.
Conclusion
For $1,450, and however much it will cost to get a 20 Amp circuit run to your home theater, the Emotiva XPR-2 will deliver impressive performance for a fraction of the cost of other competitors' offerings. How much power? How about 600 watts into 8 ohms or 1000 watts into 4 ohms both channels driven! With the ability to independently select balanced or unbalanced input on each channel, 115 or 230 VAC, and adjust the illumination on the front, there is very little more you could want out of an amplifier.
For more information, please visit www.emotiva.com.
jackfish posts on January 11, 2013 08:13
One does not necessarily need a 20 amp circuit for the XPR-2. One can use a dedicated 15 amp circuit with a Furman ADP-1520B Power Adapter. You wouldn't want to have anything else on that circuit to avoid tripping a breaker.
Vaughan Odendaa posts on December 23, 2012 03:12
It said "review on December 18", but the article was a preview. Any idea when an actual review will take place?
meoutlook posts on December 21, 2012 20:40
I agree with the confusion over the requirement for a 20 Amp circuit so I called Emotiva CS. They told me the XPR-2 should have its own 20 amp circuit. I just had two circuits put in by an electrician -- total $238.00. Cost does not seem that much to me, but the run was only a few feet from my basement sub-panel. Now to hook it up tomorrow and see if it was all worth it. I am comparing to an Aragon 8008BB I should not have sold over a year ago. Hopefully all this is worth it as it is still less than half the price of a new Aragon from Indy labs.
Irvrobinson posts on December 21, 2012 11:59
flyboylr45;935783
I know there is a "very slight" difference in price, but if I understand it correctly, the Mc2KW amps from Mcintosh are rated at 2000 watts and can be run on a standard 15 amp circuit. Why the need for the 20 amp on the Emotiva? I tried looking but haven't been able to find anywhere that says that the Mc2KW requires a 20 amp line. Just curious how a one company can accomplish it and another can't. Can't imagine that's where the price difference comes in.
McIntosh is just neglecting to tell you that the 2KW amp won't achieve full output on a 15 amp circuit, and may pop the breaker (but that's very unlikely, IMO).
Irvrobinson posts on December 21, 2012 11:57
agarwalro;934782
Since no home comes prewired with a 20A circuit, I assume several people will have to. Either that or add a potential fire hazard to save $500-1000.
It's not a fire hazard so long as the circuit breaker is sized for the wiring in the wall.