Reference Theater Series IPS-1 Set-Up & Design Overview
Introduction
When Dan Laufman, President of Emotiva, phoned me about a new cost reduced version of their Professional Series separates system (DMC-1 and MPS-1) he got my attention. Why? Because the new separates sported updated cosmetics and HDMI switching, in a more compact form factor for roughly $800 less,. When he then announced his 40% discount processor trade up program for Audioholics readers, I had him rush deliver me a pair to check them out. Imagine getting an updated version of the DMC-1 pre/pro and a 7CH power amp based on the design of the venerable MPS-1 for $800 less than the DMC-1 sold for only two years ago. If that isn't enough, also picture upgrading to their next generation processor that can decode TrueHD and DTS HD for 40% off MSRP while getting to keep your existing MMC-1 for another room or to give away to a close friend or family member. Folks, if this isn't the deal of the year, I don't know what is. But before you whip out your credit card and call Big Dan, let's take these babies for a test drive to see if they can live up to the standard of an Audioholic.
Set-Up
Normally I am not one that shows pictures of product packaging in my reviews (in fact, I've been known to make fun of this when my reviewers include them), but I must say, I was quite taken by the very thorough packing job Emotiva did on these products. Not only were the IPS-1 and MMC-1 double boxed, but the inner box had thick stryofoam molded inserts to ensure the products were safe and snug – a great preventative countermeasure against the tyranny of the disgruntled shipping guy who is working overtime delivering your heavy package late in the day.
The IPS-1 was certainly a more manageable amplifier to move around and setup than the MPS-1. Weighing in at 80 lbs, roughly 33% less than the MPS-1, the IPS-1 was light enough for me to carry with one arm up my flight of steps to my reference theater room system.

IPS-1 back panel view
The IPS-1 doesn't have balanced inputs like its big brother, but I didn't miss them since the MMC-1 didn't have them either. The back panel layout was well marked and had a clean design, with plenty of space between speaker binding posts and line level inputs. The IPS-1 also sports a trigger system with a locking connector (supplied) which can support +12V logic or be triggered by a signal. I highly recommend using the +12V trigger if your receiver or processor also has one. This will save you the headache of accidentally frying a tweeter in one of your speakers if you happen to be fiddling with the line level connections and short them out while the unit is powered up. It will also prevent the occurrence of the amplifier turning off during quiet passages of the movie only to re-engage a second or two after the dialogue in the movie picks up.
I placed the IPS-1 and MMC-1 on my new Crystal rack from Audiav and sat in awe at how impressive they looked once installed in this masterful rack. I had comments from many industry folks that walked in my room and saw the Emotiva system powered on in my rack. They almost always asked about the cost and were dumbfounded when showed them the MSRP. "Surely they cant sound that good at that price," they'd say. I'd reply, "Sit down for a listen… and don't call me Shirley."
I connected the system up to my Denon DVD-5910CI and utilized a host of speakers under review as well as my own reference speaker system (RBH Sound T-30LSE and speaker package, Velodyne DD-15 subwoofer). All cables were furnished by Impact Acoustics (Sonicwave toslink) and Bluejeans Cable (10AWG speaker cable and analog interconnects).
I tested the IPS-1 in several scenarios including 7-channels for home theater, two-channels in various listening systems currently under review, and critical two-channel evaluations with my main speakers bi-amped. While the IPS-1 amplifier did exceedingly well in all testing scenarios, I found a special liking to the last scenario – bi-amping my RBH T-30LSE system. This created a rigorous testing condition since my reference speakers are rather power hungry, containing dual 10" subwoofers and dip down in the near 2-ohm area in the upper frequencies. Unlike our friends that utilize speakers that run into thermal compression at high power levels, I haven't found an amp yet that can exercise the full dynamic capability of these speakers. Needless to say, I was quite floored by the IPS-1's ability to effortlessly drive my speaker system to reference levels without faltering or sounding stringent. As a result, I focused most of my subjective evaluation on this setup which allowed me to be as critical as possible of the IPS-1's sonic attributes.
Design Overview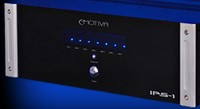 The Emotiva IPS-1 hosts many of the virtues of the MPS-1 including the double-sided plate-through glass epoxy PCB boards with 2 ounce copper on all of the power sections and ground planes, as well as 1% metal film resistors, 105 degree C-rated capacitors (a rarity for consumer audio products at any price point). The Reference Theater Series chassis construction is most impressive. Its no nonsense build quality gives the look and feel of much costlier designs and certainly adds credence to pride of ownership. The chassis is not your run of the mill cheap thin steel found on most receivers. Instead, it's built solid and is accented by silver metal vertical bars that dress up the amplifier nicely. Though, be careful as I found they do have sharp edges - an issue I made Emotiva aware of and which they claim are smoothing out in the next production run.
As with the Emotiva MPS-1, the IPS-1 displays channel status with LEDs which, when operating normally, will illuminate blue or will turn red during fault conditions. Gone, however, was the very thoughtful and costly soft clipping circuitry which was basically inactive in all but the most demanding operating conditions. The reason being is Emotiva fielded numerous calls from MPS-1 users whose listening habits bordered on sheer insanity managing to shut their amplifiers down using moderately efficient highly reactive 4-ohm tower speakers in large listening rooms. Because of this, Emotiva decisively removed the soft clipping circuit so these users could rejoice in the sonic bliss of speaker compression and constant amplifier clipping while they enjoy their compressed MP3 downloaded music from Napster.
Editorial Note on Amplifier Clipping
Once an amp runs out of headroom it enters a mode commonly referred to as "clipping". When an amplifier clips it essentially sends a square wave response or DC voltage to the speaker which after only a few short cycles can fry the tweeters voice coil or burn out series inductors in the crossover sections.
IPS-1 Amplifier Design
The IPS-1 utilizes a class H design. Similar to class G, but potentially more efficient, it modulates the power supply rail voltage just slightly higher than the output signal, keeping the voltage across the transistors small and the output transistors cool. This results in a very efficient and cool running design, commonly referred to as a 'tracking amp' because the power supply tracks the input voltage and supplies the correct output current. The modulating power supply rail voltage is created by similar circuitry that you would find in a simple power amplifier. In terms of complexity, this type of amplifier could be thought of as multiple power amplifiers driving a class AB amplifier and is therefore fairly complex and expensive to properly manufacture and execute.
The amp has four high current complementary output power BJTs per channel. Paralleling multiple BJTs is a good method of ensuring amplifier output impedance is low enough to deliver high current while driving low impedance loads. It's also an effective way of minimizing frequency response variations which can occur when driving highly reactive speaker loads or exotic cabling.
One of the biggest advantages of the Class H amplifier topology employed in the IPS-1 is its much higher efficiency when compared to typical linear Class A/B amp designs.
The IPS-1 has multiple high voltage (50V) capacitors in series, yielding 100V, 6,800uF equivalent per channel. 
Individual large 250VA toroidal transformers for each amplifier module ensures that this amp can drive 4-ohm loads with no problems, while also providing excellent channel-to-channel crosstalk immunization, especially at high power levels.
One of the biggest advantages of the Class H amplifier topology employed in the IPS-1 is its much higher efficiency when compared to typical linear Class A/B amp designs. Emotiva reports an efficiency in the high 60% range during normal music listening. Of course if you pegged the amp at full power with a sine wave test or constant clipping (think of our MP3 listener) like I did later in the review, the efficiency advantage of this multi rail design disappears and it becomes about the same efficiency of a traditional linear class AB design (40-50%).
gene posts on May 03, 2007 10:15
Great review Gene. I would have thought that the noise floor would have been higher with the lack of the isolated card design of the MPS 1.

I know you are not easily impressed, so your preference of this model over the MPS1 says something.

Nice job
The IPS-1 still has independent mono block amps just like the MPS-1 but you can't slide the modules in and out. The MPS-1 would have identical SNR if you pull the limiter circuit off which is easy to do. Emotiva will instruct customers on request if you wish to do so.
I mostly prefer the IPS-1 b/c its more manageable and easier to setup.
westcott posts on May 03, 2007 09:01
Great review Gene. I would have thought that the noise floor would have been higher with the lack of the isolated card design of the MPS 1.

I know you are not easily impressed, so your preference of this model over the MPS1 says something.

Nice job!
Gov posts on May 02, 2007 19:12
Great review!!! I wish the LPA-1 review Audioholics did was as in depth as this one. I would love to see how the LPA-1 stacks up against this amp.