RealTraps Setup, Measurement, and Analysis
There really is no getting away from having to experiment with trap/speaker placement and listening position to obtain an optimal room response. Thankfully, this iterative process can be shortened somewhat, beginning by placing MicroTraps at the first-reflection positions and MiniTraps and MondoTraps straddling wall/wall, wall/ceiling and wall/floor corners, thus achieving the greatest absorption. Unfortunately, door and/or window placement in many peoples' rooms may make placing traps in some of these locations impractical.
What are first reflections and how do I calculate their positions?
Early, or first-reflections arrive at the ear after direct sound having reflected from a surface between the speakers and listener. By placing absorption at the reflection position, the sound is intercepted and resisted against traveling any further, thereby increasing the proportion of direct to reflected sound heard at the listening position and thus improving stereo imaging. To find the first-reflection position for a given speaker, sit at the listening position and have someone slide a mirror along a wall until you see the speaker's tweeter in the reflection. This marks the position where absorption for that speaker should be placed. Other positions to be treated include the floor and ceiling.

Take my own room for example. It has three full-height glass windows along one wall, a double-width door opening along the opposite, bare walls and wood-laminate flooring. Straddling the full-height glass window wall/ceiling corner with traps was simply out of the question.
Then there's the aesthetic factor. The traps maybe attractive in their own right, but my own feeling was still to maximize placement behind the listening position because I felt that a greater proportion of two-channel sound would be absorbed by the traps in its first pass by me. Placing traps primarily behind the listening position also ensured most of the front wall remained non-distracting to the eye and more importantly; free to project films upon.
Finally, my room is square in plan. After a cube, acoustically speaking it's the worst shape there is! If ever there was a challenge for the traps, my room surely would be it.
Measurement
On the recommendation of others, I used Acoustisoft's comprehensive acoustic measurement program ETF along with the analogue version of RadioShack's inexpensive yet indispensable SPL meter.
ETF is a relatively easy to use program that sends out a full-range, i.e. 20Hz to 20kHz, frequency sweep over a five second period from a personal computer's line output hooked-up to a hi-fi before processing the response as-measured by a microphone placed at the listening position and hooked-up to the computer's line input. In my particular case, measuring was performed with the goal of achieving optimal two-channel sound, so only the front two towers were used.
After taking a plethora of measurements having incrementally moved the speakers back, forward, and sideways, toed-in and out, the couch drawn forwards and pushed backward, and the traps moved correspondingly to suit; in short, every speaker/couch/trap combination known to man, then analyzing and comparing results, I finally settled for the following trap layout:
One MondoTrap placed in each of the room's four vertical corners.
One 2'×2' MiniTrap placed above each MondoTrap.
One MicroTrap at the left tower's side first-reflection position with the remaining two hung from both towers' ceiling first-reflection positions.
Two 2'×4' MiniTraps additionally placed in the room's rear corners with the remaining two lain horizontally along, but spaced from the rear wall.
Before/after photos of the untreated/treated front/back of the room
Note that the front-right tower's side first-reflection position was left untreated because I felt that with the double-width door opening more or less occupying this spot, thereby allowing sound at least partially to escape out the room, it would be more beneficial to hang two MicroTraps from the ceiling instead of just one.
Analysis
Being a website that prides itself on the dissemination of factual information, an Audioholics review just wouldn't be the same without data to backup its findings.
In order to legitimately be able to compare results of the room both treated and untreated, compatibility had to exist between the two sets of measurements. This was achieved by re-measuring the untreated room unchanged in any way from the treated room except for having removed all traps. Whilst this necessitated obtaining results in treated/untreated order, to permit a before/after comparison they are presented here reverse to this.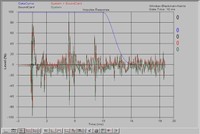 Impulse response


The response to the test signal sent out by ETF is known as the impulse response and all results offered by the program are calculated from it. The impulse response is however itself helpful because it indicates the presence of high frequency (more so than mid or low frequency) reflections which easily are recognized as prominent spikes(4).
Because MicroTraps are specifically designed to absorb high frequencies, it makes sense why placing them at the side and ceiling's first-reflection positions has resulted in the reflections at approximately 5.3 and 8.8ms being tamed and the response improved overall. Using these values to calculate the difference in path length of the reflected sound from the direct sound confirmed that the reflections were indeed due to the ceiling and side walls. As for the floor's first-reflection positions, since placing traps there would be impractical, a rug was laid instead.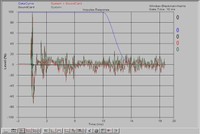 Treated room I.R.

What's the connection between ms and distance?
Since reflected sound travels a greater distance than direct sound, it follows that it must take longer to reach the ears. By taking the product of the speed of sound (343m/s) and the horizontal ordinate (ms) of a spike on an impulse response, a value representing the difference between the reflected sound and direct sound path length is returned. An impulse response is therefore invaluable in firstly determining where absorbtion is required, and subsequently in checking that placing it there has worked.

Low-frequency time-slice
The plot overlay shows a significant reduction in the null at approximately 90Hz and smoothing of the response overall. This two-dimensional plot is effectively taken at time t=0; a snapshot in time if you will. By contrast, waterfall plots show how frequency decays over time and are therefore more useful.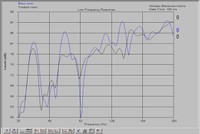 L.F. time-slice overlay
Low-frequency waterfall
On these plots, the traps have clearly reduced the blade-like response to one much smoother.
The large sharp peak centered around 38Hz was suspected of being a room mode by the fact that it extends significantly longer in time than the frequency response adjacent to it. A simple calculation placed the first axial mode for the room at 40Hz which clearly is very close to 38Hz, thereby confirming that this was indeed a room mode.

Here, the negative effect of having a room in which two of its three dimensions are identical maybe seen, as standing waves in one direction simultaneously occur in another. This helps explain why rooms with dissimilar dimensions are geometrically acoustically better than those without.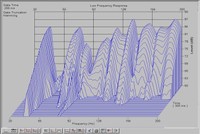 Untreated room L.F. waterfall
Whilst the peak's presence is almost certainly due to the listening positions relatively close proximity to the room's centre (the first axial mode in any direction always occurs halfway between two parallel surfaces), unfortunately little could be done about it after both the couch and speakers were drawn away from their respective rear walls to reduce the effects of comb filtering.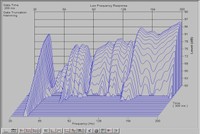 Treated room L.F. waterfall
Overall, more work is required in this region. I can't help but feel that the relatively small size (4.3×4.3m) and shape of my room make taming the low-frequency response more difficult than would perhaps be the case in a larger non-square room. However, by integrating my sub (crossed at 80Hz) with my towers, it should be possible to further improve upon the above low-frequency response due to the sub's larger, more capable driver than those of the towers, and the far greater number of placement locations available to it.
What are room modes and how do I calculate them?
Room modes are natural frequencies of vibration whose value is a function of the room's dimensions. The wavelengths of axial modes are an integer multiple of the distance between two of the room's walls and cause standing waves which are heard as an increased loudness and swelling of sound. Axial room modes maybe calculated from the expression 343n/2L where 343 is the speed of sound in meters per second, n is an integer indicating the mode under consideration and L is the room dimension in meters in the applicable direction. For example, substituting 2 for n and 4.3 for L would return the 2nd axial mode for a room whose dimension in the direction being considered was 4.3m.
Full-range frequency response
Here you can see the reduction in comb filtering (jaggedness) the traps have made. Comb filtering results from the combining of direct and reflected sound and has a negative effect on stereo imaging. Its effect is most pronounced the closer one is to a room's walls and this is one reason why the listening position should be drawn away from them.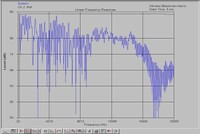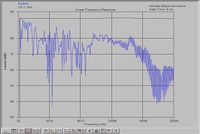 Untreated room full-F.R. Treated room full-F.R.
RT-60 time
The RT-60 time is the time taken for sound to decay by 60dB which by then would typically be inaudible. Assigning a value to an ideal RT-60 time for a small room is somewhat awkward given that certain types of music are naturally better suited to large rooms with longer RT-60 times than small rooms with shorter RT-60 times. Ultimately, the best that can be hoped for is to achieve some kind of average value and in this respect it has been found that a time of approximately 0.3 to 0.39 seconds is desirable(5, 6).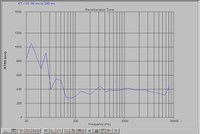 Untreated room RT-60 time
Note that from approximately 200Hz and below, the results of ETF are not meaningful with regard to small room acoustics and should therefore be ignored(6).
As may be seen, whereas the untreated room's RT-60 time of 0.4 seconds lay at the upper-bound value of the aforementioned range, the introduction of traps has clearly reduced this to closer to 0.3 seconds and over a small portion of the frequency range, closer to 0.2 seconds, which one could expect to find in a recording studio where near-field listening reduces the effects of the room on what is heard(6).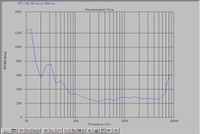 Treated room RT-60 time
The treated room's slightly lower than perhaps ideal value for the RT-60 time may be due in part to the relative close proximity of the listening position to the speakers. However, even after drawing the speakers and listening position away from the room's walls to minimize comb filtering and other boundary effects, the 'golden rule' of placing the listening position between 1-1.5 times the distance between the speakers from the speakers was preserved.