Onix Rocket Digital Equalization System (R-DES)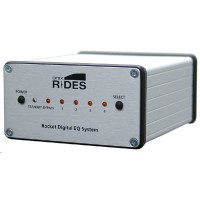 Summary
Product Name: Rocket Digital Equalization System (R-DES)
Manufacturer: Onix
Distributor: AV123
Performance Rating:
Value Rating:
Review Date: July 25, 2006 20:00
MSRP: $ 399
Specifications

Supported OSes: Windows XP (all variants). Tested with Windows 98se; not supported but should work fine. Mac and Linux not currently available.

Can store up to five separate curves and can be recalled instantly with the touch of a button

Five bands of parametric equalization per curve with low pass crossover adjustment (frequency and slope)

Two line-level (RCA) inputs and outputs

USB Input

Input impedance: 100K ohms

5 1/8" D x 4 1/4" W x 2 3/16" H

3 Year Warranty
Pros
Price
Intuitive Interface
It WORKS!
Cons
Only Windows OS supported
Learning curve
Manual measurement process is tedious
No auto-save feature for graph paper or "Save" button on R-DES EQ
Introduction
Being an official Audioholic comes with a couple of drawbacks. The first of which is that you are required by Audioholic charter not to believe in many of the tweaks out there. Magic rocks, cable risers, wooden volume knobs, batteries anywhere in your system but in your remote… What is a bona fide Audioholic to do? Well, after treating your room, the next "tweak" is an EQ for your sub. At least it is for me. I've wanted one of these for a long, long time. When Clint mentioned in passing that he needed someone to review the Onix R-DES, I practically tackled him.