Auralex Acoustics Sustain Bamboo Diffusors Preview
Summary
Product Name: Sustain Bamboo Sound Diffusors
Manufacturer: Auralex
Review Date: September 08, 2011 07:10
MSRP: $Varied
First Impression:

Gotta Have It!

Executive Overview
I've started to become a fan of bamboo. The inexpensive and eco-friendly material has started showing up all over - in furniture, flooring and more... I'm waiting for someone to make bamboo accessories for my car. Anyway, Auralex Acoustics is jumping in feet first and has offered its new Sustain Bamboo Sound Diffusor Series. The new system is made from 100% "eco-friendly" bamboo (as opposed to the non-eco-friendly kind, we guess). I can't help but think that once we use enough of these new products we'll end up back at plastic, which doesn't go extinct or run out...
OK, back to the new line of Auralex diffusors. The line includes the WavePrism, WaveLens, QuadraTec, Peak Pyramid Diffusor and KeyPacs. They look stunning - bamboo is a very dense, durable and hard wood and perfect for this type of application.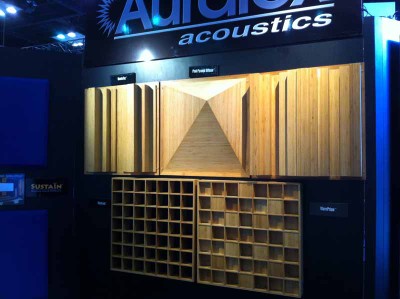 The Products

WavePrism
Like other diffusor products from the company, the Auralex WavePrism eliminates flutter echoes and other acoustical anomalies without removing acoustical energy from the space. The closed box design of the product disperses sound evenly to create a more consistent audio environment. The WavePrism is sized to drop into a suspended ceiling grid or it can be mounted to a wall to handle front-to-back acoustical issues

WaveLens
Auralex WaveLens' open-boxed design scatters and redirects acoustical energy. The WaveLens can be beneficial in numerous applications as it can create a "large sound" in a small room, as it can optimize existing absorption panels by redirecting the sound energy.

QuadraTec
The QuadraTec's unique tiered design provides excellent scattering properties, resulting in a warm, musical character to the dispersed sound. The nested pair offers two unique diffusion tools that, when used in combination with each other, can result in a more spacious feel in any room. Like the WavePrism, the lightweight design also allows QuadraTec diffusors to be placed in suspended ceiling grids or attached to walls.

Peak Pyramid Diffusor
Auralex's Peak Pyramid Diffusor is optimized to provide high-quality sound diffusion while also doubling as an effective bass trap when filled with absorptive material. These lightweight, sturdy pyramid-shaped diffusors are sized so that they can be easily dropped into a suspended ceiling grid or installed onto wall surfaces using mechanical fasteners.

KeyPacs
KeyPacs are designed to be mounted to the face of absorptive panels; such as, Auralex's ProPanels or Studiofoam. These specifically designed panels will fine tune existing absorption treatment to be more effective in the low and mid range while not killing off the higher frequencies - yielding a room that is well balanced across the frequency range. KeyPacs are available in three configurations ― 9 Hole, Bubble and Star­.

The reason people are (rightly) going gaga over bamboo is because it's one of the fastest growing woody plants in the world. I mean, it literally "shoots" up and it's easy to harvest and use. In the proper climate, bamboo can grow up to eight feet a day! I can honestly understand why we're really starting to see it showing up everywhere. Bamboo has the strength characteristics of traditional hardwoods, but is actually classified as a grass. In fact, some animals, like Pandas, eat it - though not this kind, apparently.
For more information please visit www.auralex.com or call 800-959-3343.