Auralex MoPADs Overview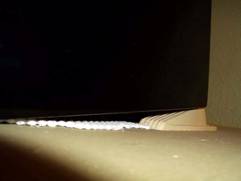 In an ideal world there would be no war, disease or hunger and our loudspeakers would be perfectly placed in perfect rooms for perfect sound. While Auralex probably can't help resolve world issues, they certainly can help with speaker placement, room acoustics and isolation as evident by their isolation pad devices they refer to as MoPADs and the up and coming new acoustically treated room for the Audioholics Showcase home premier reference system .
My family room system is at a bit of a disadvantage for the front three speakers since they are mounted about six feet in the air on top of a built in entertainment center that houses my equipment and 56 舡 Toshiba 1080p DLP display. While I chose excellent loudspeakers for the task, their biggest hindrance was their placement which was about three feet above ear level.
My initial solution was to toe them down using door stoppers and a thin rubber pad to help decouple them from the base of the entertainment center. This was certainly a very good cost effective and practical solution, though I never seemed to be entirely satisfied with the look (especially when viewing the speakers on the sides) or even the sound. Thus I called on Auralex for their suggestions. It was then that they introduced me to the concept of their MoPADs. They didn't offer them to me as a sonic cure all, but as a means to perfectly decouple the speakers from the entertainment center, while also providing a more optimal downward angle towards the seating area and even more importantly a more aesthetically pleasing solution for my significant other. Hmm, so I could kill three birds with one stone? Where do I sign up?