NAB 2005 Show Report - page 3
Life (and the world) is more complicated than it was 20 years ago. There aren't just two companies involved anymore. Now there are armies of accountants and lawyers from every point of the globe elbowing up to the table for their piece of the action. Isn't that the way the camel was designed???
The new standard will be released shortly but it will be at least six months to work out the details and another six months before we see product - hardware, software, media. IDC's projection that it would be 2010 before Blue-Ray technology hardware has even a few percent of the total DVD sales is starting to look very real!
If H.264 takes off as there is every indication it will and we start to use more of the $40 DVD burners, sub-$150 DVD recorders and sub 50 cent DVDR media that blue sales penetration rate could stretch out to 2015.
All of that is good news for most people but you do have to feel sorry for those Japanese consumers who purchased their expensive BD recorders and cartridge BD media. Like Laserdisc they'll have another collector's item.
The Dark Horse?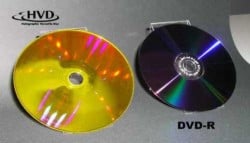 Even as they talked in the smoke-filled back room, the HD and BD camps touted their superior solutions. At the same time two camps for an even more attractive storage solutions were demonstrated at NAB…holographic.
The technology has been rattling around in the R & D labs for more than 20 years and has been tried with everything from tape to discs to who knows. But it now appears to be commercially viable albeit for business and professional use for the next five years and then move into the consumer space around 2010.
The big deal is that it a single disc will hold about 300GB out of the gate and can ultimately have a capacity of up to 3.9 TB on a single disc. Burners and media will initially be about the same cost as Blue technology stuff but as we have seen prices deteriorate rapidly as manufacturers rush to buy marketshare.
Both the HVD (holographic versatile disc) and HDS (holographic data storage) camps claim they will be first with real product early next year. While the HDS group showed some really polished videos of their technology, the HVD folks showed real prototype hardware and media.
From what we heard and saw, if we were a manufacturer or software developer we'd put our money on the HVD horse being the first one out of the gate late this year/early next year. The technology already the intense support it has from disc, material, device and tester producers. Best guess is that drives and media will initially be about the same cost as Blue-based products (which is a long way from consumer prices).
Can't wait for Christmas…have to wonder who will be the first with a $50 H.264 codec DVD burner and sub-$500 HD camera? Our DVD collection is starting to look like a good long-term investment for our home theater.