Computex 2005 Show Report
by
The DVD Insider
—
June 13, 2005

At trade shows you quickly realize that there is a lot of truth to John Guare's play and the movie adaptation - Six Degrees of Separation . There may well be billions of people on this planet but manufacturers and show visitors run in the same circle.
This year that circle - which grew to about 130,000 people - there weren't any breakthroughs, just a lot of refinements of the concepts that had been shown at CES and CeBit early this year. By the time the holidays roll around the friends and friends of friends will have wrung most of the costs out of the products so we will have something we can affordably buy.
Once you sifted through the noise there weren't any killer applications or product breakthroughs you come to expect with major shows. Many attributed this void to the shortened product lifecyles and the need to squeeze pennies out of the products as prices and margins continue to drop. When you are at the product development table most managers will make safe incremental bets and enhance current products rather than rolling the dice on high-risk products.
Dual-core processors from Intel and AMD created a lot of interest at the show, as did the refinements of liquid cooled processing. Then too there was the integration of more and more technology on the same old products to make them "new and exciting."
PCs - desktop and notebook - had cleaner, crisper screens, wireless enhancements, slightly improved batteries, incrementally faster graphic chips, better audio and bigger hard drives. Portable devices - they can hardly be called phones anymore - had better screens, audio/video download capabilities and yes more storage capabilities/options.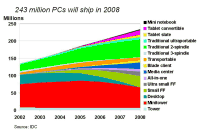 Of course the two product categories are important to the industry's health. IDC recently announced that we have begun shipping our second billion PCs and that the growth potential remains strong (see chart). That and Microsoft's announcement that they will ship at least some flavor of Longhorn this next year which will mean new versions of the application software will be required by users put the sparkle in a lot of people's eyes.
While Intel and AMD set the ground rules for the dual-core processor discussions, the companies that could benefit most from the products will probably be Taiwan's Via, Taiwan Semiconductor Manufacturing Co (TSMC) and United Microelectronics Corp (UMC) in the audio and video content products. Both are getting a lot of interest in their video, audio and peripheral chips. Microsoft's announcement that they will ship at least some flavor of Longhorn this next year which will mean new versions of the application software will be required by users put the sparkle in a lot of people's eyes.
To build excitement around the system potential of the new chips and product advances, firms showed a variety of cube and notebook home entertainment systems (see sampling of product photos) like Intel's own PC prototype and Asus' new MC cube. Some of the systems delivered the same feel as CE products by incorporating InstantON. On in a flash they opened the world of home entertainment with audio, photo, video and TV content.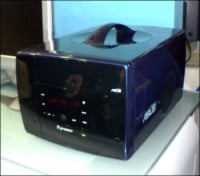 As you might expect with some of the firms' ability to mirror ideas (much nicer way to say copy) was the beginning of microminiature PCs. AOpen was one of the first out of the gate with an economic PC Mini. By the time the holidays and CES roll around expect to see a wide array of versions. We can also expect whole families of complimentary storage - like ADS Tech's Mini drive kit -- and digital media players.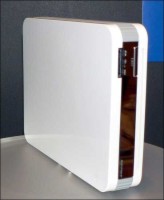 Wireless was everywhere at Computex and everything was wireless. Not just mobile solutions (which were huge) but there was a lot of WiFi and home networking solutions around. Depending upon the booth and the company focus people were "explaining" how MC PCs, MC CE, Smart TV or Service Provider CE (see line chart) solutions were going to be huge in 2006. They were all partially right because people will probably buy multiple home entertainment solutions.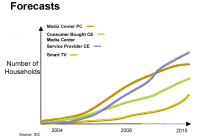 But we have a long way to go. According to a report by the Diffusion Group in May of this year the average number of networked devices worldwide last year were three and that even by 2010 the number would only increase to four. Our bet is few of those are entertainment devices at the present time.
The big challenge will be developing a "must have" demand at the consumer level for networked systems and entertainment. That education has a long way to go. According to a January Harris Interactive survey 95 percent of the people who were asked why they didn't have a home network responded simply that they had no need. Other reasons given included HW/SF price, don't know what to purchase, ease of set-up, compatibility issues and in adequate after-sale support.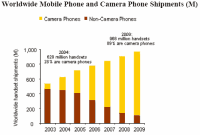 The phone manufacturers - who are everywhere in Taiwan - understand that folks now want more than a simple cellphone…ok not you or us but someone does! Units were on display in every shape, color and form. They offered all of the multimedia capabilities people believe they want (seem bar graph) or at least those that service providers want to sell. The new units are positioned become MP3 replacements, personal/portable TV sets, email/IM delivery units and oh yes by the way, telephones.
Actually bigger, better screens were everywhere along with the growing promise of wireless entertainment and communications everywhere.