Audioholics SOTU Referral Program for Consumers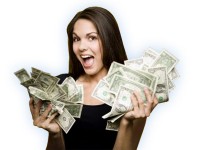 Earn Cash
Does the economy got you down? Are you looking to earn some extra cash? Here is your chance to have Audioholics Pay YOU while having a blast doing it!
If you know anyone interested in home theater that would like to attend our 2008 State of the CE Union (SOTU) Event, the week of October 23rd - 26th we will pay you $25 for every person you refer to us that registers. Get us 100 people and you've just earned yourself a cool $2,500. As a bonus, If you refer us just 3 people, we will waive your $75 registration fee as well.
This deal won't last and we are looking to book full attendance by September 1st, 2008 so get busy and start earning some coin while you enjoy all of the benefits the Audioholics community of websites have to offer.
Key Selling Points:
6 State of the Art Demo rooms
Free Educational seminars
Complementary Breakfast for two days
Costume Party and Ballroom Dining Event/Party
Kids Party (separate registration required)
Tons of Door Prize Giveaways (ie. amps, receivers, cables, speakers, and more)
Free Party Swag (Audioholics T-Shirt, DVD's, etc)
Charitable Auction to benefit the National Conservation of Science & Policy
3 Day Comprehensive ISF Course (separate registration required)
Walking distance to Downtown Disney and short ferry Ride to all the Disney theme parks
Please have your referring party write in "Referred by: Your Name" at the bottom of the registration form and feel free to contact us with any questions at: info@audioholics.com
> AUDIOHOLICS SOTU REGISTRATION FORM <

Eligibility Requirements
Commissions are calculated based on each referral that has paid the non refundable $75 registration fee and is of legal age 21 or older.
jams001 posts on November 13, 2008 07:24
wonderful topic is this interesting to read
engtaz posts on October 31, 2008 08:21
He taught the subwoofer class. He is English I believe from the accent. He had a cold.

engtaz
majorloser posts on October 31, 2008 07:27
I thought he was the rep for Pioneer that was setting up the room with Dolby.
engtaz posts on October 31, 2008 07:20
Velodyne rep.

engtaz
bmf795 posts on October 30, 2008 08:25
majorloser;475166
Hey, did anyone mention that Jerry Greenfield, the one and only co-founder of "Ben & Jerry's" was at the Audioholics SOTU???
http://www.benjerry.com/our_company/about_us/our_history/jerrybio.cfm [benjerry.com]

Well, he was and he brought the ice cream to prove it!

Gene and Jerry



That's Chris Seymour third from the left.


On the far right is Will Stamps from the Audioholics Store giving the "thumbs up".



We need to thank Seymour AV for making this possible!!!!
http://www.seymourav.com/ [seymourav.com]
Any idea of who is the man pointing to the ice cream(between Chris and Dann) in the third picture from the top?