Audioholics 2012 GTG Show Report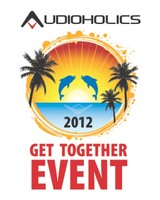 Audioholics 2012 GTG Report
Most large trade shows, like CEDIA or CES, provide manufacturers the opportunity to shuffle a large number of people through their booths. Unfortunately, this creates a situation where manufacturers don't have the time to really sit down and talk to consumers in detail and have an in-depth conversation. Our goal with the Audioholics Get Together was to provide manufacturers and attendees a more relaxed atmosphere that encouraged great conversation and interaction. This goal was part of our larger mission of being able to give something back to the AV community. That's why we didn't charge any registration fees, served a home cooked meal, and held it at a small venue. We also had a private party the night before the event for staff and vendors. And, I mean party; including a DJ, dance floor, tantalizing belly dancer and full course meal...which just happened to fall on Gene's birthday so we had birthday cake for everyone fixed to look like an audiophile turntable.
The entire experience was a blast and we gathered feedback to make sure that next year is even better for consumers and vendors. Most importantly, the turnout was better than expected and we know we've got a formula for hosting a compelling event that both manufacturers and consumers enjoy participating in. For additional event photos, visit the Audioholics GTG Picture Folder on our facebook page. Also be sure to look for our video coverage of the show brought to you by Clint DeBoer and Andrew Gash.
Left Pic: Registration ; Right Pic: Turntable Birthday Cake

The day consisted of registration, demos, lunch, and a raffle. Gene's wife and her family made a FREE home-cooked meal for the first 100 registered attendees and all vendors which also included Audioholics branded dark chocolate bars to boot. At noon everyone shuffled through the line while they were served food. After lunch we held a raffle for free prizes and gave away swag, gift cards, and a grand prize gift basket. Expect next years give-away to consist of audio gear as well. So attendees be sure to register early to be eligible to win!
Left Pic: Gene's Wife's Family Serving Lunch; Right Pic: Registered Attendees Eating Lunch
Read on to see the list of gear and highlights from each demo room.
EMP Tek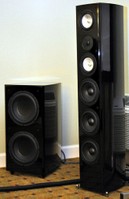 Main System:
E55Ti Towers ($795/pr)
E56Ci Center ($450/ea)

E55Wi Surrounds ($499/pr)

ES1010i Powered Subwoofer ($499/ea)

Yamaha RX-A1020 Receiver ($,1099)
Oppo BDP93 Blu-ray Player ($499)
Epson ProCinema 6020UB Projector
Severtson Screen
2.0 System
E5Bi Bookshelf ($250.00/pr)
EMP VT40.1 hybrid tube amp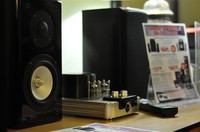 The EMP demo room may have been my favorite of the event. Shane and Dave from EMP/RBH came down and setup a 5.1 system and spun up a variety of CDs and Blu-rays, showing us stereo music, 5.1 music, and movies. There were three main things that impressed me about this system. First, the speakers looked great. Many Internet direct brands succeed in making speakers that sound good, but far fewer succeed in making speakers that look good in a typical living room. The entire Impression system would fit the décor of any modern living room.
Second and third, the sound quality and price were astounding. If you think that a pair of floorstanding speakers for $795 can't have a wide soundstage, precise imaging and a neutral tonality, then you need to think again. The surround speakers really stuck out to me, or more accurately they didn't stick out. The sounds just floated somewhere behind me. The surround effects had a great ambiance that filled the gap from the front speakers to the surround speakers. At normal retail price the entire Impression series is a great value, but at our event EMP had 30% off every speaker and was giving away a FREE pair of RBH Sound EP1 in-ear headphones. Calling this anything short of a steal would be an understatement. Rounding out the video portion of the room was an Epson Pro Cinema 6020UB Projector and Severtson screen. While projectors normally don't look good in well-lit rooms, it provided an excellent picture with the lights on. My only regrets are that I wasn't able to test out 3D on the Epson, or listen to the Cinema 5 surround sound, but we do have the Cinema 5 in for review. Needless to say, I was pretty floored by the EMP/RBH room.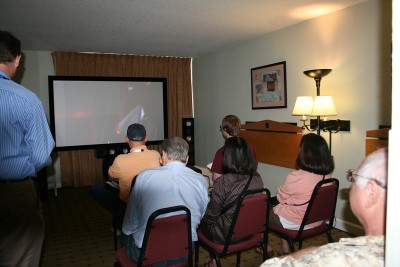 EMP Tek Demo Room
HSU Research
HB-1 MK2 Horn Bookshelf Speakers ($149/ea)
HC-1 Horn Center Speaker ($239/ea)
VTF-15H Subwoofer ($879.00)
VTF-1 MK2 ($449)
ULS-15 ($1,099)
If there was a contest for loudest, lowest, or largest subwoofer at the event, HSU Research would have won. They showed up with a system geared towards the best dynamics and bass on a budget. Armed with only a basic Sony DVD player hooked up to a Dell office projector and mid-level Onkyo A/V receiver, they were able to pump out some amazing sound. Some manufacturers bring in all sorts of high end gear, sometimes costing way more than the speakers, but HSU wanted to show you that you can get a great system on a budget. The HB-1 MK2 Bookshelf Speakers were used as the main speakers and surround speakers. They brought in three different subwoofers to show people the progression in their line. The sub I wanted to listen to was the VTF-15H. I had to wait all day for the room to clear out a little bit, but I was finally able to stop in and ask for the most bass heavy track they had. They queued up a track from The Haunting and let the VTF-15H assault me (and everyone in adjacent rooms) with tons of low frequency bass. I was pretty surprised when they said the entire system was only $1,549.00 when bought as a package. This was the first time I had the opportunity to listen to any HSU Research products, but I have a lot of experience with other speaker packages in that price range. Let me be clear, if you have a large room and want a bass-oriented system on a budget, I cannot think of any better option.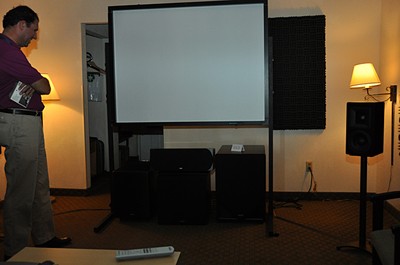 HSU Research Demo Room
Angel City Audio
Trinity C ($999/ea)
Trinity LR ($2,599/pr)
Melody AN300B ($5,999) Integrated tube amplifier with Class A bias
Cables: MG Audio Design

This event was the first time that any of the Audioholics staff (and other attendees too I would guess) had a chance to listen to Angel City Audio. Angel City began as a distributor of Onyx and Melody Valve HiFi products. After about a year they decided to start developing their own equipment. Currently they have two products, the Trinity loudspeaker and a power conditioner. They told us that there are a number of other products in development, such as speaker stands, AV accessories, and of course more speakers.
The Trinity comes in two different flavors, a Trinity LR and Trinity C. The speakers are identical except the Trinity C measures 12" deep vs. 16" deep, which allows the LR to play a little lower. They sport two custom 7" woofers and one Vifa XT concentric ring radiator tweeter. They are pretty large bookshelf speakers at 22" H x 9" W x 17" D (12" D for the Trinity C). This wasn't a budget system like some other manufacturers were showing off. Everything was high-end, including the MG Audio speaker wire and power cables. Angel City drove the system with a MelodyAN300B tube amp running class A which is part of the Melody luxury line consisting of the AN211, AN300B, AN845 and P2688. The imaging was great, cymbals sounded like they were in front of you and had a nice long decay. The sound was very forward with a little accentuation on the treble, something a Klipsch fan may love.
Angel City is trying to make it to every major tradeshow so I am sure you will be able to listen to them at some point.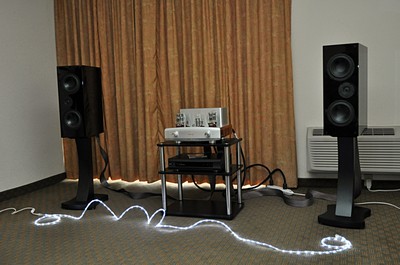 Angel City Audio Demo Room
Emotiva
XMC-1 7.2 Processor ($1,499)
XPR-5 Five-Channel Amp ($1,999)
XSP-1 Differential Preamp ($899)
UMC-200 Processor ($TBD)
UPA-700 Amp ($499)
AirMotiv 6 Powered Monitors ($699/pr)
Epson Home Cinema 5020UB
Severtson Screen
Emotiva rolled up to the event with a giant RV full of gear. In fact, their RV was fully tricked out with a multi-channel A/V system for movie watching on the go. They brought a huge assortment of speakers, amps, pre-amps, cables.....you name it to exhibit in their demo room. The booth layout was impeccable, with a product card on each item, ordering forms, clean cable management, and spec sheets. They setup an entire 7.2 surround sound with X-Ref speakers driven by the UMC-200 processor and UPA-700 amp. An Epson Home Cinema 5020UB and Severtso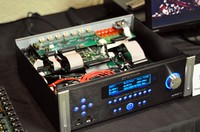 n screen provided a great picture to match the sound. During the movie Battleship I was able to see fine detail on dark Navy camp uniforms, detail that is often lost on lesser products.
The real stars of the show were the XMC-1 7.2 channel processor, XSP-1 Differential Stereo Preamp, and XPR-5 amp, all of which we would love to get in for review at some point. The XSP-1 was hooked up to a pair of Airmotiv6 speakers, although I didn't get a chance to listen. The XMC-1 was hooked up to a small LCD TV used to show of its new on-screen display and the depth of customization available. The XPR-5 was not hooked up to anything, but it was powered on and Emotiva was proud to show how they have listened to customer feedback and all off the front panel lights can be turned on or off and dimmed. An XPR-1 and XPR-2 are in the works for future release.
The Emotiva room was packed all day, and everyone wanted to get in and see all of the new and yet to be released gear. Don't worry that I didn't cover all of the details here, we have a video interview with Dan that will be released shortly so you can get the skinny on all of the new gear.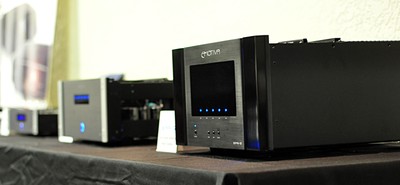 Emotiva Amp Lineup, XPR-5 in the foreground.
Aperion Audio
Aris Wireless Speaker ($499/ea)
Aperion showcased a different product offering than any of the other vendors. Instead of bringing an entire surround sound, they opted to show off the Aris wireless speaker. It is the first Windows 8 certified speaker, but it works with Windows 7 as well. I had read about the Aris before and thought it was just a simple wireless speaker, but it actually has a lot of cool technology built in.
First off, on the back of the Aris is a slot where a removable PCMCIA wireless adapter can be inserted. If you insert a Windows 7/8 card, then the dock will work wirelessly with Windows. However, Aperion is going to release an AirPlay card so you can actually make this into an AirPlay dock (straight Bluetooth is also on the table). I asked about making a DTS Play-Fi card and was told it wasn't in development but I am sure they could develop it if the technology takes off. The ability to swap out cards is great for people that might switch between owning a Windows phone, iPhone, or Android phone. It also has a 3.5mm jack on back for direct connection.
The other thing I learned about the Aris is that the red base it sits on it detachable and reversible. By reversing the base the Aris will tilt down instead of up, perfect for placement on top of a mantel. If you don't like the look of the base, just remove it and set the Aris flat on its feet.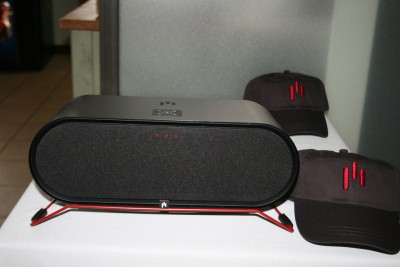 Aperion Audio Aris
Salk Sound
SoundScape 8 ($7,999/pr)
Supercharged Song Towers ($3,499/pr)
SalkStream Player ($1,295) ($995 beta program)
Unnamed bookshelf speakers ($???)
I think that Salk would win the "most beautiful" speaker contest... if we had one, that is. Jim Salk treated us to an impressive stack of custom and stock gear. But, I feel wrong calling anything from Salk Sound "stock" because these are not cheaply mass-produced products. It was a real treat to be able to sit down and talk with Jim Salk and his wife about how they started, how he designs his products, and what some of their future plans are. They are some of the nicest people I met at the whole event and had some of the best sounding speakers there as well.
Jim brought in a set of SoundScape 8 tower speakers and Supercharged Song tower speakers. He also showed up with brand new bookshelf speakers that have yet to be named. If you look around some of the buzz on the forums from this event you will see people saying that the SoundScape 8's were the best speakers they have ever heard, at any price point. Now, that is a pretty big claim but it is easy for me to believe after hearing them. Each speaker in the line was phenomenal, so much so that one of the attendees bought a pair of SS8 speakers on the spot.
Beyond the sound, the most intriguing device that I saw was the new SalkStream Player, a wireless digital music player. Jim told me that he set out to make the best sounding digital music player on the planet, and I might say he succeeded. He took out everything that wasn't absolutely essential for operation, and made the most simple signal path possible. The unit only has one USB output, so it is meant to be used with an external DAC. It doesn't come with a hard drive, rather it pulls up to 24/192 files from any computer, HDD, or NAS drive on the network. It sounds great, but unlike many audiophile products, it's also very easy to use. I expected some clunky metal remote or complex software running on a computer. Nope, an app running on any computer, iPhone, iPad, or Android phone can control the music and a simple web page is used for initial setup. That was it for me, I wanted one! An audiophile product that not only sounds amazing, but is also extremely convenient to use, that's almost unheard of. Unfortunately, I didn't walk away with one but I know at least one attendee did.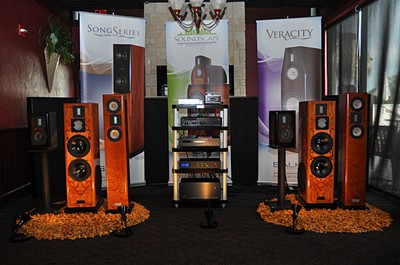 Salk Sound Demo Room
Conclusion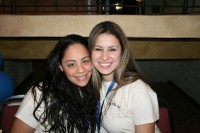 The Audioholics GTG was a blast. We loved being able to meet all of the readers, forum members, and manufacturers. The atmosphere was truly different than any trade show I have ever been too. It was relaxed and personal, you were able to sit down and take you time with the products and the manufacturers. We heard a lot of positive feedback from both attendees and vendors that it was nice to be able to have personal interaction with everyone that came though (even though the rooms were busy) and just be able to have fun showing off products. I know that some of the vendors ended up selling most of the gear they came with. Overall, the event was a huge success for everyone involved and we are excited to lineup another event next year at a destination beach location in Florida.
KEW posts on December 10, 2012 11:26
Any comment on why Aperion was traveling so light?
gene posts on December 10, 2012 10:01
Joe@Definitive;931652
Hey Gene, that's a really good show wrap-up report. I hope we can participate in some way next year. Best, Joe
Thanks Joe, we certainly hope Definitive will be a part of our show next year as well.
Joe@Definitive posts on December 10, 2012 09:27
Hey Gene, that's a really good show wrap-up report. I hope we can participate in some way next year. Best, Joe
Marshall_Guthrie posts on November 01, 2012 09:27
BoredSysAdmin;918908
I did see several pieces of equipment with tubes, some fancy interconnects, Speaker and POWER Cables - Close enough
Yes, I noticed the tubes too, but at least tubes do something.
BoredSysAdmin posts on November 01, 2012 07:33
eugovector;918727
This can't possibly be an audio show. Where are the $5,000 tone arms? Active speaker cables with sealed network boxes? And, I don't see any gold plated resonators or platinum filled wave de-mystifiers.

Good job bringing quality gear for many different budgets and not letting any voodoo through the door.
I did see several pieces of equipment with tubes, some fancy interconnects, Speaker and POWER Cables - Close enough