Yamaha DPX-830SL DLP Front Projector
Filed under: Projectors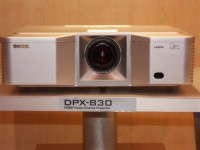 Yamaha's new DLP projector looked absolutely gorgeous. We viewed this projector with standard HD and DVD signals and image was smooth, detailed, artifact free and had silent operation. The new DPX-830 has a native resolution of 1280 x 720p and claims an impressive 4000:1 contrast ratio the new projector appears to have impeccable build quality. MSRP is $4,000.
Tech Specs:
4000:1 contrast ratio
Newest 0.65" WXGA (1,280 x 768 pixels) DLP device and imaging driver for super resolution
Full 10 bit processing
Brilliant Color technology
Motorized iris control
Image customization
Low light leakage
Quiet operation
Custom installation features
HDMI compatibility
Brightness: 1,000 ANSI lumens (max)
Video Capability: 480i, 480p, 576p, 720p, 1080i
Power Consumption: 280 W
Dimensions (W x H x D) 14 3/16" x 4" x 11 7/16"
Weight: 8.6lbs
Designed in the tradition of higher-end, high-performance projectors such as the DPX-1200 and DPX-1300, the DPX-830 marks Yamaha's first midline entry into its family of acclaimed Audio/Video equipment. The advanced features of the DPX-830 are intended to enhance the viewing experience for any home theater enthusiast.
Equipped with the 720p native resolution TI DarkChip2, the DPX-830 provides a remarkable 4000:1 contrast ratio and brightness levels of up to 1000 ANSI lumens. The six-segment color wheel, Brilliant Color Mode feature and customized optical design deliver more vivid midtone levels for a sharp, yet true-to-life picture.
Enhanced picture quality continues with newly-designed 10-bit full digital processing for jaggy reduction, and user-selectable functions for vertical and horizontal keystone and gamma correction.
HDMI and RS-232C connections, plus a powerful trigger out (12V, 200mA) - which operates lamp on/off in tandem with screen up/down functions - ensure easy and flexible system integrations and reduced setup times. For an optimal home theater experience, the DPX-830 runs extremely silently with 26dB quiet operation. MSRP is set at $4,000 and a shipping date has not been finalized but is expected this Spring.