Yamaha MCR-E810 PianoCraft Micro Component System
Filed under: Miscellaneous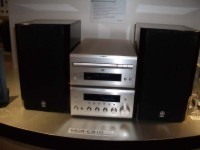 This week at the CEDIA Expo, Yamaha introduced the latest PianoCraft CD/DVD Receiver Micro Component System, the MCR-E810. Featuring a simple and elegant design with a Yamaha piano finish, this system offers 60W x 2 high power output with discrete amplification via a two-way bass reflex speaker system.
The system is compatible with an Apple iPod via an optional docking station (Yamaha YDS-10). The progressive scan DVD player offers maximum image resolution for a smoother, film-like image when used with a high definition TV (HDTV) or large screen. The MCR-E810 offers extensive audio/video format compatibility, as it is able to play back DVD-Video, Video CD, Audio CD, MP3, JPEG, DivX® and WMA content. Pure Direct mode provides the highest possible sound purity by shutting down the tone control circuitry and front panel LCD to avoid audio interference. In addition to delivering high power output, the MCR-E810 maintains large amounts of reserve power for accurate reproduction of the high energy peaks from digital audio sources.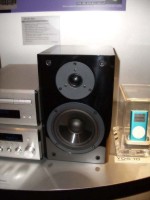 For the two-way bass reflex speakers, Yamaha employs a unique internal, cross-bracing wedge structure that produces a tighter sound and provides increased strength, reducing unwanted vibration. The 5-inch woofers cone and 1-inch dome tweeters can handle 110W of maximum power. A subwoofer can be connected via an output for this purpose to provide additional low frequency audio response.
Convenience features of the MCR-E810 include an intuitive graphical user interface (GUI) that is displayed on the screen of the TV or monitor of the entertainment system and 40-station AM/FM Random Access Preset Tuning. The system is sold with a full-feature remote control.
The PianoCraft MCR-E810 will be available in September for a suggested retail price of $549.95.
For more information visit http://www.yamaha.com/home .