Universal Electronics Limited Edition NevoSL Controller
Filed under: Remotes/Control Systems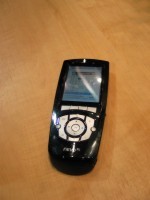 Universal Electronics Inc. has announced a limited edition high gloss black version of the award-winning NevoSL controller. The High Gloss Black NevoSL will be available only through select distributors for the custom electronics professional.
Spurred by the feedback from custom installers around the world, UEI developed the new High Gloss Black NevoSL to complement the home theater environments of the most discerning home entertainment enthusiast. This High Gloss Black NevoSL will provide custom installation professionals a control option to match the growing trend of high definition television monitors that are offered in gloss black or dark wood finishes.
The new product adds yet another SKU to the UEI family of products, accessories, and services offered to the custom installer. Equipped with the recently launched NevoStudio 2.0 software suite, the High Gloss Black NevoSL is a unique and powerful package that enables custom electronics professionals to differentiate their businesses by providing more innovative, faster home theater control installations and unmatched after-sales service and support to the homeowner.
The Limited Edition High Gloss Black NevoSL can be purchased through AVAD, Positive Marketing AV, and Digital Delivery Group. The sleek new design comes with a matching high gloss black charging cradle.
More information about UEI can be obtained at http://www.uei.com .