Sunfire TGR-3 Receiver
Filed under: Receivers/Processors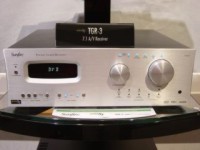 At the CEDIA Expo this week Sunfire was touting it's new Theater Grand 3 (TGR-3) as "the world's most powerful receiver."
Key features include HDMI digital video switching and surround processing algorithms from Dolby and DTS, as well as Sunfire's exclusive Sonic Holography and Sunfire's patented Tracking Downconverter (TDC) which produces an astonishing 200 watts on each of its seven channels. TDC, now in its sixth generation, provides high-current power to speakers through a unique "just-in-time" approach that generates virtually no heat. This eliminates the need for either a fan or massive heat sinks and makes it possible to design the amplifiers as relatively compact yet extremely powerful components, suitable even for speakers using massive drivers.
The Sunfire TGR-3 (MSRP $4999) is available in either Black or Platinum finish and will be shipping this month, October 2006.
More information is available at http://www.sunfire.com .