RBH Sound Signature T-30LSE CEDIA Demo
Filed under: Loudspeakers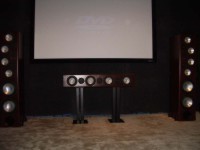 Just over two years ago RBH Sound unveiled a rather unique speaker system at CES known as the Signature T-2P System . Incidentally this system won our 2004 CES Best of Show award and became our reference speaker of choice shortly thereafter. RBH Sound referred to the driver topology in the T-2P system a "truncated line array". This system shared many of the virtues of a classic line array speaker such as unparalleled dynamic range, seemingly infinite soundstage - characteristics responsible for producing a very lifelike sound these types of products are known for. One area the T-2P system literally defined itself was in its ability to provide a competently focused soundstage and excellent imaging characteristics NOT common in many large line array type speakers, especially with wide front baffles like the T-2P system had. As a result this system quickly became the Audioholics reference speaker. Life was good, our Audioholic appetite was fulfilled….. until now.
RBH Sound has never been a company to rest on its laurels. Just as they've demonstrated in the past, it was time for them to take a successful existing speaker system and improve upon its design by employing driver and electronics technologies from their ultra high-end Status Acoustics division. Thus the Signature T-30LSE was born.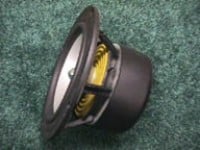 The T-30LSE employs the same 6½" phase plug drivers found in all of their Status Acoustics products, and the venerable Scan Speak 9500 tweeter - which is arguably one of the world's finest tweeters regardless of price. RBH also significantly updated the bass portion of this speaker by increasing the box volume 25% by producing one individual cabinet and opening up the back of the satellite portion of the tower to the subs. They also integrated their new high excursion 10" aluminum subwoofers which were integrated into the prototype Status Acoustics Titus speakers we demoed last CES. The result - a speaker system that can play flat down to 18Hz at high SPL levels.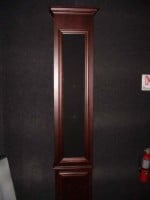 Their demo room consisted of two rows of theater chairs, a rack of audio gear from Audio Contro (Maestro Processor, and Savoy Power Amp)l, and power conditioning by APC . The demo was set up for 5.1 surround sound with a pair of SI-760's custom in-walls heading up the surround channels. Minimal acoustic treatments were furnished by Aur alex Acoustics whom were generous enough to assist RBH Sound on a moments notice to combat the excessively echoey room. Many of the manufacturers had no choice but to demo their products in non ideal rooms with little noise isolation from the show floor.
Our demo began with a multi-channel track of a Ray Charles song sang by Eric Clapton. Tonal balance of his voice was excellent coming from the new RBH Sound 6100-SE/R center channel which was designed to sonically and dynamically match the new T-30LSE system. High end extension from the front three speakers was also excellent. You could hear the impressive imaging capabilities of the T-30LSE despite being a multi-channel recording. Though, I was eager to hear straight-up two channel audio which they didn't offer in this brief demo session.
Up next were some short movie clips beginning with King Kong. The pounding of Kong's footsteps was so authorative and tactile that I swore RBH must have snuck in some tactile transducers under the chairs. Rest assured they did not. The new high excursion 10" woofers and larger box volume was paying dividends in achieving superbly low end extension and SPL levels that their original T-2P system could only dream about.
U571 was the next movie clip. I was launched into the captured German submarine with Matthew McConnaughey fighting off the pursing German Destroyer. Every bone crushing depth charge echoed through my skeletal system. These subs hit hard and fast with no distress. The only disconnect I heard was the lack of smooth transition between the front and rear soundstage which was attributable to two things:
· This demo was limited to 5.1 and the surround speakers were direct radiators placed on the back walls
· The theater seating head rest was far too bulky and blocked the entire back of my head restricting my rear aurial perception and high frequency acuity.
The other thing I found distracting was the unusually high system noise floor which the Audio Control processor was responsible for. This is simply unacceptable for modern day so called high performance electronics and although this was no fault of RBH Sound, I felt it important to notate.
Issues aside, I focused on the capabilities of the new T-30LSE system. After the demo was over, I requested additional time to demo straight two channel music.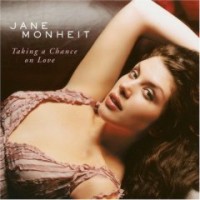 We put on some Jane Monheit whom, until now, I was unfamiliar with. Her voice was amazingly mature for such a young woman. When I did a Google search on the artist, I also discovered she was a complete babe. I am definitely going to acquire some of her music to use in future reviews.
I heard amazing vocal clarity from the center channel when listening to the track Honeysuckle Rose . I asked Shane Rich - RBH Chief Engineer, to turn switch off the center channel and engage two channel mode and his response was "you are already listening to two channel mode". I thought to myself - impressive, most impressive. While in the past the T-2p system was able to achieve excellent imaging and broad dispersion, it simply couldn't provide the level of intimacy and focus I was hearing on the new T-30LSE system. Could it be I found the ultimate speaker that offered unparalleled dynamic range, limitless soundstage while still being able to convey the intimacy and focus of a great two way direct radiator speaker?
Stay tuned for my formal review coming soon to find out….
For more information, visit: http://www.rbhsound.com
pictured left (T-30LSE Tower) pictured right (T-30LSE dimpled subwoofer port)