Polk Audio THX Ultra2 Certified In-Ceiling Speaker
Filed under: Loudspeakers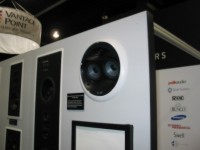 Polk Audio showed the RTS100, the first in-ceiling speaker to meet THX Ultra2 performance standards. Up until the development of the RTS100, speaker manufacturers had been frustrated in their attempts to develop an in-ceiling speaker that had the frequency response extension, accuracy, high output and imaging quality required for THX Ultra2 certification. THX and Polk worked hard to successfully develop a product design solution that overcomes the common problems associated with in-ceiling speaker performance.
The RTS100 is a 14-inch diameter in-ceiling loudspeaker that features dual 5-1/4" midrange drivers and a 1-inch Ring Radiator tweeter mounted between the drivers. Polk's exclusive Sound Shape baffle guides the sound waves toward the listening position for imaging that seems to hover in front of the listener rather than being localized in the ceiling. The product has an integrated Performance Enclosure that ensures perfect and consistent loading for the drivers for predictable high performance. The integrated enclosure is no larger than the speaker cutout, making installation in existing construction a breeze.
The RTS100 comes with a perforated metal grille and a cloth grille so that home owners can have the look of their choice and installers do not have to inventory two SKUs or special order grilles.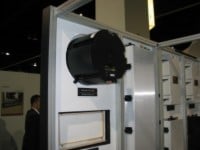 Polk's patent pending Stud Lock mounting system allows the RTS100 to be easily and securely installed for resonance and buzz-free performance. Stud Lock is an adjustable metal frame that is screwed to studs or joists. The RTS speaker is secured to the metal frame instead of the ceiling material, providing a stiffer, more secure mounting platform for the speaker for the best possible performance. A threaded screw insert on the top of the enclosure accepts an eye bolt allowing installers to attach a support wire from a solid surface to the speaker in drop ceiling installations.
The RTS100 joins the rectangular THX Ultra2 Certified in-wall model introduced at last year's CEDIA show. With both models Custom Installation retailers will be able to offer their customers stealth built-in home theater systems with consistent and predictable high performance worthy of the THX Ultra2 certification.
The RTS100 features technologies used in Polk's critically acclaimed LCi Series built-in loudspeakers to deliver the sound quality of stand-alone models-technologies such as Polk's Ring Radiator tweeter and Aerated Polypropylene cones.
As in all LCi Series speakers, the RTS100 features control switches that allow the installer or user to optimize the loudspeaker response when the speakers are placed in less than ideal locations. When flush mount speakers are installed too close to adjacent room surfaces, the bass becomes "boomy" and voices sound too heavy and thick. Polk's exclusive "Wall Distance" switch lowers output only in the low-midrange/upper bass area to correct for this problem.
The RTS100 will be delivered to North American retailers in August 2006 at a Suggested Retail Price of $1200 each. It is packaged singly to allow the greatest system design flexibility for 5.1, 6.1 or 7.1 channel systems.
RTS100 Specifications
> Driver Complement Midrange: 2 - 5-1/4" Diameter (13.34cm) Aerated Polypropylene Dynamic Balance Driver Cones
> Tweeter: 1 - 1" Diameter (2.54cm) Ring Radiator Tweeter Electrical
> Overall Frequency Response: 50Hz - 27kHz
> Lower -3dB Limit: 80Hz
> Upper -3dB Limit: 26kHz
> Nominal Impedance: 4 ohms
> Recommended Amplifier Power: 10 - 200W w/channel
> Efficiency: 92 dB
> Inputs: Heavy duty spring-loaded terminals
>
Dimensions
> Overall Diameter: 14"(35.56cm)
> Cut-out Diameter: 12-1/2"(31.75cm)
> Mounting Depth (assumes 1/2" [12.7mm] wall material): 8-3/4" (22.23cm)
> Overall Depth: 8-7/8" (22.5 cm)
For more information visit www.polkaudio.com .