Boston Acoustics Flagship E100 Speaker
Filed under: Loudspeakers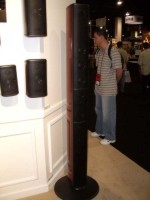 Boston Acoustics continued to tout "The Boston Sound" at the 2006 CEDIA Expo. Music and movie sound reproduced the way the artist intended as well as exceptional accuracy is the way the company describes this mantra.
The new E Series was front and center on display, featuring a range of five different speaker sizes from compact bookshelf models to full-sized floor-standing units, the E Series line includes: the E40 (MAP: $400), E50 (MAP: $500), E60 (MAP: $600), E70 (MAP: $800) and E100 (MAP: $2,500). The Boston Acoustics E Series represents an innovative departure from traditional wooden-box speakers, providing users with an unprecedented combination of elegant design, advanced audio reproduction capabilities and flexible placement solutions.
The Flagship E100 Speaker ($2500), standing an impressive six feet tall, with six 5-1/4-inch woofers, one 5-1/4inch midrange/woofer, one 3-1/4-inch midrange driver, one 1-inch VRH.O. tweeter, and one rear-facing VR tweeter. This is a sleek, great looking speaker that we heard demoed in Cleveland at the Denon/Boston Acoustics line show in July.
For more information please visit www.bostonacoustics.com .