Artison RCC 600 In-wall Subwoofer
Filed under: Subwoofers
Artison announced today the official release of the RCC 600 In-Wall Subwoofer, a newly-developed low-profile in-wall subwoofer designed for consumers, builders and interior designers who want powerful bass in a compact, in-wall design.
Created by speaker designer Cary Christie, the RCC 600 is a "reactance-canceling" in-wall subwoofer. Built utilizing a configuration that reduces vibrations and sound distortion, the RCC 600 has a sound/bass performance that targets that of an oversized floor-standing 12-inch subwoofer.
Cary Christie, president and chief executive officer of Artison said "its design is so concise that consumers will be amazed at the sound quality that comes from such a sleek, in-wall product. It is the ideal solution for customers who want deep bass, high quality and performance from their audio system coupled with visual appeal."
The RCC 600 In-Wall Subwoofer seems perfect for aesthetically-minded audiophiles who want bold sound and great bass, but don't want to give up precious interior space to bulky stereo equipment.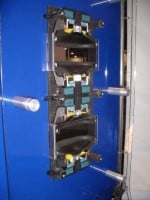 The RCC 600 features a patented Dual Driver Motor assembly. The subwoofer's separate Rack Mountable 600-watt, Class-D Amplifier allows for a customized set up matching a room's unique sound needs. Edgeless Surround technology maximizes piston area while increasing XMAX in a standard 2" x 4" stud wall installation.
RCC 600's advanced features, such as automatic room equalization and variable low pass slopes, make the finished installation easy. Sound controls, like power, gain, movie mode, and music mode, are front panel accessible, giving consumers and installers a considerable amount of flexibility and performance. The subwoofer module enclosure made of BMC (Bulk Molding Compound) seems both rigid and well damped and the white finish can be painted to match any interior. The RCC 600 measures 23.5"H x 9.5"W after installation.
Available in mid-August at authorized Artison dealers nationwide, the RCC 600 In-Wall Subwoofer's manufacturer's suggested retail price is $2,000.00.