VWB MediaREADY Flyboy Media Player
Filed under: Portables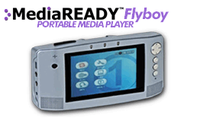 Video Without Boundaries, Inc. announced the development of the MediaREADY Flyboy Personal Media Player. The MediaREADY Flyboy is an ultra-slim portable MPEG4 media player and recorder capable of carrying hours of video and music and thousands of pictures.
The Linux-based MediaREADY Flyboy Portable Media Player allows you to record up to 80 hours of video, store over 200,000 digital pictures, or hold up to 740 hours of music on its 40 GB hard drive and enjoy it all on the move. The Flyboy has an easy to watch 3.5 inch LCD screen with built-in speakers. The internal USB 2.0 hard drive allows your Flyboy to receive files from a connected MediaREADY 4000, MediaREADY 5000 or PC.
The MediaREADY Flyboy has a $349 MSRP and is scheduled to hit retail shelves in early 2005.
MediaREADY Flyboy Highlights
MPEG4 Video Player/Recorder: Record up to 80 hours of video on your Flyboy and watch it on 3.5 inch LCD screen or connect it to a TV for convenient playback. Supports Real One player.
MP3 Player: Hold up to 740 hours (12,000 songs) of MP3 music. You can transfer MP3s quickly from a PC via the USB 2.0 connection.
Digital Picture Storage: Store over 200,000 digital pictures (1600x1200 pixels). View your pictures on the LCD screen or throw them up on the TV via RCA output. Includes 3x zoom functionality.
Digital Voice Recorder: The built-in microphone aloows voice recording for meeting notes or to-do lists.
Data Storage Center: When connected to other MediaREADY devices or a PC, the Flyboy is an external hard drive for transporting and storing data files.
Built-In Speaker and Earphone output: earphones or use the built-in speakers depending upon your needs
For more information about the MediaREADY products, visit www.vwbinc.com .