Virgin Boomtube EX Portable Speakers
Filed under: Loudspeakers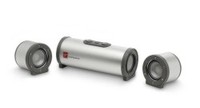 Virgin Electronics showed off its Virgin Boomtube EX - a rather unique portable speaker system. With its stylish, aluminum, tubular design and rechargeable battery, the Boomtube is the first portable speaker system to incorporate both a bass tube and twist-off speakers for true stereo separation. The Virgin Boomtube EX pumps out more than 40 watts of total system power and works as a truly portable solution for portable music sources, such as CD players and MP3 players (Virgin makes their own - the Player 5GB.)
The Virgin Boomtube EX features 2" aluminum speakers that reproduce sound at the mid- and high ranges. In addition, Boomtube EX combines two bass drivers with MaxBass technology for lower frequency bass reproduction. With lithium rechargeable battery and a carrying case for portability, the whole system weighs just over three pounds.
Quick Specs & Features:
Driver size: 4 x 56mm (2")
Driver type: Dual neodymium
System response: 50hz-20KHz
Signal/Noise Ratio: > 70db
Power: Over 40 Watts RMS
Battery Type: Lithium Ion
Subsonic output: Patent pending bass tube with matched drivers
Bass Technology: MaxxBass®
Connectors Standard 3.5mm stereo audio in jack
Stereo RCA output jacks (left and right)
Standard 3.5mm stereo headphone jack
6V DC power in port (optional adaptor available)
MSRP for the system is $199. Virgin Boomtube EX will be available at Fry's Electronics stores and at Virgin Megastores nationwide and online at www.virgin.com/electronics . The Boomtube EX's smaller, lighter cousin the Virgin Boomtube runs on four AA batteries and is available immediately. For more information, visit www.virginelectronics.com .