Vidikron Vision Series Model 100 Projector
Filed under: Projectors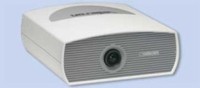 The Model 100 Features a LightAmp 3-Chip DLP™ System and Exclusive Imagix™ Video Processing Technology

Vidikron debuts their new flagship Vision™ Model 100. The Model 100 has been specifically engineered to produce high performance video in the contemporary home, bringing a state-of-the-art entertainment experience to the family room, great room or living room.

"Most high-end video projectors are intended for use in a dedicated theater environment with controlled lighting. The Model 100 has been designed to produce high quality, high-resolution pictures even in rooms with plenty of light. The result is a plasma-like picture on a very large screen, even in daylight, with drapes open and lights ablaze," said Jim McGall, vice president for sales and marketing for Vidikron. " We are responding to that market segment that appreciates how a high-end, quality-crafted and beautifully styled projector enhances their lifestyle even during the day."

Vidikron has incorporated today's most advanced 3-chip, high definition DLP™ technology with a specially designed LightAmp™ engine developed by Vidikron's engineers to achieve optimal blend of high quality image reproduction with extremely high light output. As a result, the Model 100 produces an amazing 3500 ANSI lumens of light output (CSMS™ Light Output of 78.5 ft-Lamberts).

The Model 100's 16:9 native aspect ratio DMD™ array makes it ideal for widescreen viewing, while its HD-2+™ 3-chip, 1280 x 720 native resolution produces crisp, crystal clear high definition images with richly saturated colors, deep black levels and natural, highly refined detail.

Vidikron's exclusive all-digital Imagix™ video processing is integrated into the projector chassis for the most advanced video scaling and image quality available. This design provides straight line digital connections from source to light engine maximum picture resolution.

The multiple aspect ratio control includes Vidikron's unique IntelliWide™ mode for viewing standard video formats in widescreen modes without loss of image quality. Discrete IR and RS-232 control, and lens shift capability make custom installation seamless, while discrete source and aspect ratio selection accommodate any automation control system.

"The Model 100 reproduces superb picture quality and is built to be flexible and easy to use. It fits today's high-end video customers' needs like a glove," added McGall. The Vision Model 100 retails for $29,995.

For more information, visit the Vidikron website at http://www.vidikron.com .