Silicon Optix Realta Video Processing Chipset
Filed under: Technology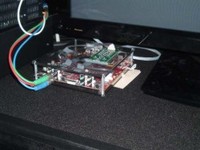 Silicon Optix put forth a most impressive demo of their Realta chipset that they debuted last year at the CEDIA Show . Silicon Optix stated that Realta's HQV technology matches, and in many cases exceeds, the industry leading video processing seen in the $60k Teranex 3RU Xantus system. Silicon Optix explained to us at CES that they spent $20 million to develop the Realta processor. In essence, it was used to shrink the technology from the set-top Teranex processor to fit onto a single (Realta) chipset.
Teranex's software algorithms, which have been refined though over 100,000 hours of content verification and have a proven reputation for quality, have been ported to run on the Realta HQV processor. This represents a significant jump forward, somewhat reminiscent to when transistors made the jump to silicon in the mid-50's.
The new Realta chip offers an almost mind-blowing array of features and processing capabilities for native HD signals as well as standard definition content.
Some of these highlights include:
HQV True 1080i to 1080p/QXGA De-interlacing
HQV SD/HD Multi-Direction Diagonal Filter (MDDF)
HQV Noise Reduction
HQV Detail Enhancement
HQV Automatic Film Mode Cadence Processing
HQV Automatic Per Pixel Video/Film Detection
HQV 16 to 1024-Tap Adaptive Scaling
True 10-Bit Processing
Equal Quality Two Channel Processing
Optional eWARP-2™ Geometry Processing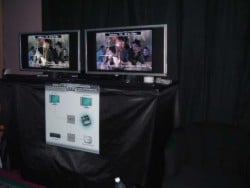 Key features that really allow Realta to single themselves out from their competition include:
The Realta Processor is a 10 bit processor (vs. most others which are currently limited to 8 bit processing)
The Realta has the ability to reduce "jaggies" at shallow and high degree angles both vertical and horizontal
The Realta has the ability to do many different film cadences. While many other comparable processors can do 2:3 and 2:2, the Realta can do both of the above as well as all other cadences (such as 72Hz, 3:3; Anim a tion, Anime, a nd bro a dc a st movies).
Cadence is very important part of video processing as it will directly affect detail, jaggedness (edge pixelation or stair-stepping), judder motion, and the accuracy of the image itself. Unlike the Faroudja processor, the Realta has the ability to do multi-cadence automatically - even in full high definition resolutions.
During our demo at the Silicon Optix booth, we found the noise reduction employed in the Realta processor to be very dramatic and superior to others we have seen in the past. To put it plainly, the level of detail shown while using the HQV Realta was significant. Objects like bricks in a wall or leaves on a tree were incredibly sharp and detailed with no noticeable ringing or artifacting. These improvements in detail and noise reduction were quite significant attributes that should not be understated.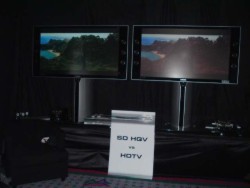 Pictured to the right is the Realta HQV processing acting upon a standard 480p signal vs. a direct 1080i HD feed. Strikingly, the two sign a ls looked very similar and only a very well trained eye could distinguish a difference. This was as impressive a demonstration of just how powerful this processor really was as any I've seen. Keep in mind that Silicon Optix has plans to further develop this processor and continue to upgrade its abilities. It has enough power to maintain a very long shelf life; however the responsibility weighs heavily on the hardware manufacturers to implement any necessary or helpful upgrades when they become available.
Also exciting, not to mention helpful for product reviewers, was the Silicon Optix Benchm a rk DVD test disk which was unveiled to be used a s a n evaluation tool for displays, DVD players and video processors. Featuring various tests to highlight the improved capabilities of their processor, we look forward to putting this test disc through its paces to determine its ability to help us to continue to objectively evaluate display devices.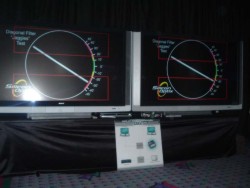 Here is a snapshot of their "Jaggies" test.
So far this chipset has made its way into the new Denon flagship DVD-5910 Universal DVD Player and a new Runco projector. Rest assured, we will give our full report on its abilities when we review the very promising Denon DVD-5910. After this suite of demos, we are looking forward to this review with even greater anticipation!