Polk Audio XRt12 Component XM Tuner
Filed under: Transports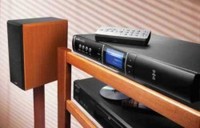 Polk audio is shipping its new home component XM tuner. The idea is that for those people who really enjoy listening to XM music and talk at home, a fixed unit is the way to go. Lugging a portable unit back and forth from the car isn't exactly the most user-friendly option - not to mention the wear and tear on the equipment. in addition, most home adapters are nothing more than makeshift solutions that have no real design aesthetics for home theater use. Polk's new XRt12 component-standard 17-inch wide chassis looks right at home among the rest of your audio gear.
Polk's new XM also offers video output so the album, artist and track information is actually readable on your television, rather than just on the tiny LCD display of a portable unit. Another cool feature is that when you hear something you want to remember later, just hit the Memory button on the front panel and the XRt12 will record up to 10 tracks worth of channel, artist and song data for later retrieval.
The Polk XRt12 comes with everything you need to enjoy XM radio the day you bring it home - a high gain XM antenna with 20 foot cable (an optional 50 extension is available), a digital optical cable and a 3 cord RCA-type analog audio/video cable are all included in the carton. Hooking up is a snap. It features both Optical and Coaxial digital outputs for easy connection to surround receivers and processors. If XM goes multi-channel you'll be ready! The XRt12 also features standard RCA jack analog stereo outputs so you can hook it up to ANY stereo receiver or amp.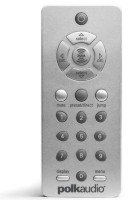 Additional XRt12 convenience features include:
Full function remote control
Built-in signal strength meter helps you position your antenna for perfect reception
Up to 20 channel presets for quick and easy switching to your favorite channels
Category function allows you to scan through major categories of channels (Rock, Talk, Sports, etc.)
The Preview function allows you to see what channels are available and what is playing before switching from the channel you are listening to
The Display control lets you enlarge the text on the display for easy viewing from a distance when your tuner is not hooked up to a TV
Output Level Control matches the analog output volume of the XRt12 to match that of other sources in your system for consistent volume as you switch from XM to other sources
If you have a whole house distributed audio system like those made by AMX, Crestron, NetStreams or Elan, the XRt12's RS-232 I/O connector allows you to plug it right into the system for XM radio throughout the house. You'll be able to control the XRt12 from any station on the system and display channel, artist and song data on any control screen in the network.
You can set the XRt12 to automatically shut off if a button is not pressed in 30, 60 or 90 minutes
If your audio receiver or amp has a 12Volt trigger output, you can connect your XRt12 to it and have the receiver turn the XRt12 on and off
Features:
Styled and sized to match standard premium audio components
Unique video output displays channel, artist and song title on your TV screen
Easily connects to any home audio system with either analog or direct digital connections
Optical and coaxial digital outputs for lossless, pure performance
Built-in audiophile-grade Burr-Brown™ Digital-to-Analog Converter for superior sound quality
Premium high gain audio preamp section that is dead quiet, low in distortion and wide response matches the output of typical audio source components (CD, DVD players)
Everything you need to hook up and enjoy XM programming the day you get your XRt12 tuner home is included in the box:

High gain XM home antenna with 20 foot cable (optional 50 ft. extension cable available)
Full function remote control with batteries
3-conductor RCA-connector analog stereo audio/composite video cable
Optical digital cable
XM channel reference card
Instructions for how to activate your XM subscription (subscription required)
Owner's manual

4-line blue XM display shows channel name, channel number, artist name, song title and signal strength
Front panel controls include Menu selection, Category Scan, Memory, Channel Scan, Display & more.
20 Channel Presets, in 4 banks of 5 each.
Category Scan lets you scan through the major categories of XM channels (Rock, Talk, Sports, etc.)
Preview function allows you to see what is playing on other channels while still listening to the current channel
Display function lets you enlarge the text on the front panel display for easy viewing from a distance when the tuner is not hooked up to a TV
Memory button records up to 10 records of channel, artist name and song data so you can "remember" songs you heard and liked without needing a pen and paper
Menu functions include:

Display Brightness and Contrast adjustment
Memory Recall recalls the channel, artist name and song titles you saved with the Memory button
Channel Skip/Add allows you to un-clutter your channel list with stations you are never going to listen to like the Military Band Channel for example (there really isn't a Military Band channel)
Line Out Level lets you match the tuner's output (gain) to that of the other components in your system so the volume remains constant as you switch from source to source. (works only with analog outputs, digital output level is fixed).
Auto Shutdown allows you to set the tuner to automatically shut itself off after 60, 120 or 180 minutes of no use. The default setting is no auto shut off.
Antenna Aiming is a signal strength meter to help you find the best possible antenna location.

RS-232 connector allows connection to whole-house audio distribution systems (Crestron, NetStreams, etc.) for remote room control of tuner and display of tuner data on remote keypads and other control devices.
Technical Specs:
Signal to Noise Ratio greater than 80dB
Total Harmonic Distortion + Noise less than 0.05%
Channel separation greater than 50dB
Size: 17" w x 2.3" H x 10.5" D, fits any audio furniture.
Weight: 5 lbs
Color: Any color you want as long as it is Black
For more information, please visit www.polkaudio.com.