Panamax MAX 5510-PRO & 1500-UPS
Filed under: Cables and Power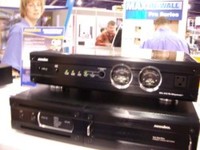 Panamax brought its latest power conditioner for the automated home to CES this year. Panamax's new 5510-PRO has some great features and is worth a look for those looking to distribute cleaner and safer power to their home theater. Geared for the more substantial, automated home theaters, the unit features an RS-232 interface, allowing automation systems to control the power state of connected equipment and program power cycles for components like satellite receivers which may lock up after downloading software updates. It also features an isolated/balanced power option, giving the installer the ability to match the unit's noise filtration and conditioning to the specific needs of the install.
The front of the unit (pictured on top) features a meter dimmer switch, AC regeneration control and LED indicators, as well as an analog voltmeter and ammeter. The rear of the unit, among many other features, has the RS-232 control interface, high current outlet bank, isolated outlets, filtered outlet banks, SATV coax jacks, CATV coax jacks, LAN/Phone jacks, DC trigger input and output, trigger enable switch, trigger delay switch and high current oulet delay switch. The unit will ship this January and has an MSRP of $1499
Panamax MAX 1500-UPS Home Cinema UPS/Power Conditioner
Panamax also debuted its high performance UPS designed for home theater applications. With a 1500VA rating, learning IR output control critical load management, RS-232 programmability and noise filtration, Panamax is positioning their new MAX 1500-UPS as an ideal solution for managing home theater power. While its conditioning features are not as robust as the Panamax 5510-PRO Power Conditioner, its price point makes it a viable alternate option for those seeking a high end and sophisticated power conditioning unit as well as a backup UPS unit to provide continuous safe voltage to your theater equipment. Panamax' colorful booth had both units on display, marking their public debut. A quick glance at the front of the unit showed off an Unsafe Voltage Indicator, a Line Fault indicator, as well as load level, AVR, backup battery, and battery level indicators. The rear of the device featured both non critical and critical load outlets as well as the aforementioned RS-232 serial port and IR control section. The unit will ship this January 17th and has an MSRP of $999.
Additional details, specs and features on both units can be found on the company's website www.panamax.com .