Ovideon AVIAh OLED Media Player
Filed under: Portables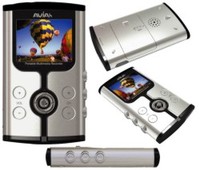 Ovideon Inc., as a response to the growing demand in portable multimedia players, introduced the AVIAh OLED (Organic Light Emitting Diode) powered Multimedia player, recorder and TV.
The Ovideon AVIAh is an ultra slim, compact and portable multimedia player and recorder with an integrated TV/Cable Tuner. This high resolution 521 x 218 pixel OLED Powered player/recorder offers fast moving picture performance with its 5ms response time, striking brightness, accurate color temperature and unlimited viewing angle resulting in an ultra smooth and ultra clear picture.
Dan Zubic, Executive Vice President of Ovideon has some things to say about the use of OLED in the unit: "As a technology, OLED offers a dramatic improvement in picture quality over LCD. While LCD is acceptable for MP3 players, OLED really shines for Video applications. You will never want to watch video on an LCD player ever again!"
The AVIAh fits easily in a shirt pocket or purse, weighs only 5.1 ounces and is very easy to use. Via its integrated USB 2.0 interface you can easily drag and drop Movie, Video, MP3, AVI, WMA,WMV9, DIVx, and JPEG picture files directly into the AVIAh. To catch up on your favorite TV shows the AVIAh even features a built in TV and cable tuner that allows you to record what you are watching.
The AVIAh also functions as a real time video and audio recorder. Connect it to a Video Camera, DVD, CD or VCR and record directly to the built in 1" HDD. Use the built in voice recorder to record your conversations or meetings. You can even connect the AVIAh to a big screen TV or projector and view multimedia files. As a mass storage device the AVIAh allows you to store any file on its HDD. In this mode it functions as an external hard drive.
Quick Features:
2.2" (521 x 218) full color OLED screen
1" 5GB hard disk drive
TV and CableTV tuner (with record/capture capability)
A/V inputs and outputs
USB 2.0 interface
Real-time A/V recorder (MPEG-4, WMV-9, AVI, XviD, MP3 support)
5.1 ounces
2.7" x 4.68" x 0.78"
The Ovideon AVIAh is a truly unique multifunction OLED powered multimedia player and recorder. Expected ship date is January 2005. MSRP: $599.00. For more information, please visit www.ovideon.com .