New Triad InCeiling OmniRound Series
Filed under: Loudspeakers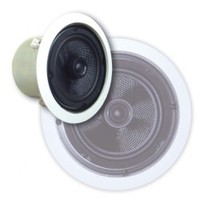 Triad Introduces A More Affordable InCeiling Loudspeaker Line
With their OmniRound Series In 5.25-, 6.5- and 8-inch Sizes, and at $200, $250 and $300 MSRP per speaker these new products are targeted at custom installers and remodelers looking for a better value. Triad Speakers, Inc. debuted their new InCeiling OmniRound Loudspeaker Series that reaches price points lower than previously available by the company.
Designed for both existing and new construction applications, InCeiling OmniRound is a 2-way, full-range loudspeaker comprised of silk dome tweeters and Kevlar carbon fiber cone drivers in a sealed-enclosure which prevents sound from "bleeding through" to adjacent floors in the home, making it ideal for all whole-house audio and home theater applications. Additional benefits of Triad's sealed-enclosure design include protection of the drivers and crossover components from moisture, dust, and settling construction materials.
"In the case of InCeiling OmniRound, less expensive doesn't mean less quality," says Triad Speakers Director of Sales and Marketing Paul Scarpelli. "We are using high-quality components within a sealed-enclosure design and like all Triad products, backing it with a 10-year limited warranty. InCeiling OmniRound offers our dealers great sound at a great price."
The Triad InCeiling OmniRound5, OmniRound6, and OmniRound8 loudspeakers begin shipping in Spring 2005. MSRP is $200, $250, and $300 per speaker, respectively.
For more information on Triad, please visit: www.triadspeakers.com .