Mitsubishi HC2000 DLP Pojector
Filed under: Projectors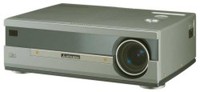 Mitsubishi Digital Electronics America's Presentation Products Division, the industry leader in home entertainment technology and innovation, showe off thier HC2000 HD2+ DLP projector which they claim is the industry's quietest with just 23dBA of noise in low lamp mode. This is accomplished through the use of a low-noise sirocco fan, special exhaust duct and lining along the interior which make use of sound dampening material.
"Our challenge was to create an outstanding high performance combination of incredibly smooth video images, detail in black areas, extremely quiet operation and ease-of-use," said Steve Medina, senior manager of product planning and development for Mitsubishi Digital Electronics America's Presentation Products Division. "The HC2000 met and exceeded those challenges with the latest technology available in the home display arena."
High Video Performance - Smooth Operator
Mitsubishi's HC2000 displays crisp HDTV images thanks to its own CineView HD™ video processing technology, which processes and scales all signals for the smoothest, cleanest images. The HC2000 produces spectacular results from standard definition video sources such as DVD, cable and satellite as well.
Mitsubishi's new HC2000 also boasts the latest HD2+ DLP chip from Texas Instruments. The projector has a 4x and 5x color wheel speed selection to reduce or even eliminate rainbow effects from fast motion screen images.
High Contrast Ratio - Detail In The Darks
Along with stating a contrast ratio of 3600:1, Mitsubishi's new HC2000 uses a novel approach to enhancing detail in black areas in analog or digital video. To reduce internal light reflection and image noise, optical engine components are colored black, leading to clear, detail-rich images through the lens. The lens aperture is also optimized for better image reproduction in dark areas of a film or video.
The projector is designed with a distinctive 8-segment dark-video enhancement color wheel that has two palettes of red-blue-green, and two dark green segments, minimizing noise and providing more details in the shadows.
The HC2000 is also designed to fit in an out-of-the-way place to minimize viewing distraction. Using a vertical lens shift of 50 percent, the projector can be mounted directly to the ceiling with a slim bracket, and project to a 106" diagonal screen positioned 30" down from where the ceiling meets the wall. The HC2000 chassis is designed to avoid leaking any internal light, which also can detract from the projected image.
HDTV Compliant - The Future Is Now
The HC2000 offers the highest digital imaging technology today in true 1280 x 720, HDTV resolution. It also has a DVI input with high-bandwidth digital copy protection (HDCP) compliance for use with digital set-top boxes that distribute high quality video signals.
To create an overall home theater environment based on Mitsubishi's technological excellence, the HC2000 can be connected to an HDTV tuner/controller such as the Mitsubishi HD-5000 and a surround sound audio system for a full cinema experience.
Pricing, Availability, Warranty 
The HC2000 will be in limited distribution through a select group of AV Specialty Retailers, and has a market price of $10,999. It is covered by an exclusive, two-year limited warranty on parts and labor plus a 90-day limited warranty on the lamp.