Mirage UNI-Theater Speakers
Filed under: Loudspeakers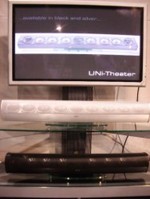 Mirage, a speaker manufacturer with it's North American base in Toronto, Canada showed off it's UNI-Theater speaker on this very busy second day of C.E.S. Promising better separation than many traditional 3 piece L/C/R speaker arrays, this sleek speaker can be a nice alternative to those listeners short on space. Each sleek enclosure boasts (per channel) a 3/4" PTH tweeter, 3" Titanium deposit hybrid woofer, and dual titanium deposit hybrid 3" passive radiators. A total of nine speakers with the tweeters slightly diffused to create a better sense of directionality and separation. They utilize what Mirage refers to as Omnipolar technology to enable the speaker to radiate sound in a 360 degree omnidirectional pattern. Also, while I did not specifically see it used in this capacity, Mirage claims that the UNI-Theater speaker can also be used for rear channels providing a complete 6 channel home theater system with just two enclosures.
UNI-Theater specs:
Two-way magnetically shielded integrated L/C/R system with patent pending omnipolar array

8-ohm nominal, 4-ohm minimum

80Hz - 20khz +/-3db

2.7kHz crossover frequency

88dB sensitivity

Recommended amplifier power of 10-100 watts
The UNI-Theater will have an M.S.R.P. of $1,000 and Mirage expects a February shipping date. Available in silver or black. Check them out at www.miragespeakers.com .