DWIN TransVision 4 Projector
Filed under: Projectors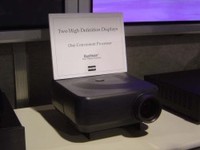 DWIN Electronics demonstrated its new TransVision 4 high definition front video projector system at CES 2005. Based on Texas Instruments' DarkChip 2 720p DLP technology, the TransVision 4 is the first home theater video projector in its class to include a native-rate outboard digital video processor. The processor is virtually future proof, accepting 10 video inputs including 2 DVI-HDCP, 2 RGB, 2 S-video 2 component, and 2 composite. Six inputs are high definition capable. This is excellent for custom installation flexibility and system convenience. Suggested retail value for the system is $6,495. The system will be available in April 2005.
The TransVision 4 sports a Carl-Zeiss zoom lens and a 250-watt lamp. The projector showed off deep black levels and natural color reproduction in the on-site demo which was playng back a D-VHS source.
Each of the projector's inputs (even the two DVI-HDCP inputs!) allows full and independent user control for brightness, contrast, color saturation, tint, gamma and sharpness. All settings are automatically saved and recalled for each input and video type.
Only a single, all-digital video cable is required to connect the processor to the projector. As a result, awkward video source cables remain hidden with video gear, so projector installation is faster and system control is more convenient.
The system has intuitive, home-theater style menus accessible via an eight-device preprogrammedlearning IR/RF remote with back-lit keypad to control multiple home theater video and audio devices. For custom installations, DWIN provides both discrete IR and RS-232 commands that allow seamless integration with home automation systems. Two programmable 12V triggers are also available for a projector screen control or other home theater accessories.
For more information please visit www.dwin.com .