Draper Salara Video Projection Screen
Filed under: Projectors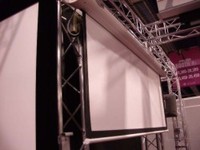 Aimed at a consumer/prosumer base, Draper's Salara screen, with new Plug & Play option, gives the user the ability to have a remote controlled drop down screen on his wall in 10 minutes - no electrician needed! Plug & Play includes a built-in receiver and hand held transmitter in your choice of RF or IR. It also includes 10' of IEC cord, which plugs into socket in the back of the case and the nearest wall outlet. A wireless wall switch is optional for RF version. The Salara's small, elliptical case and domed endcaps are finished in white. Floating "gunlatch" wall mounting brackets grip the screen case securely and are barely visible. Draper was offering a wide array of sizes and format options as well, including NTSC/PAL (4:3), HDTV (16:9), and widescreen (1.85:1).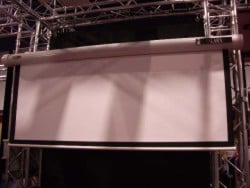 Draper Salara system options
Extra drop-Up to 8' overall height, either white or black (white is standard for AV format, black for other formats).

Black masking borders-Borders are optional for AV format screens and standard for all other format screens.
Draper expects to release the Salara screen in winter of 2005 and intends to have an M.S.R.P. starting at $1,170 for it's smallest model. Check out www.draperinc.com for more info.