Denon DVD-5910 Flagship DVD Player
Filed under: Transports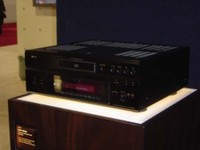 Denon significantly raised the bar in DVD video and audio performance with the introduction of its new flagship player, the DVD-5910. The Denon DVD-5910 brings several significant technologies to the consumer home entertainment arena. Most notably, it's the world's first consumer product to incorporate the RealtaHQV chip from Silicon Optix. Powered by "Teranex" technology, the chip performs over 1-trillion video processing operations per second, significantly improving standard definition video.
The DVD-5910 is also the world's first DVD player to feature the critically acclaimed 10-bit Precision Video Scaling™ technology from DVDO by Anchor Bay Technologies, a critical video processing step. The Precision Video Scaling circuitry is very impressive and does a tremendous job at digital video upconversion, cross-conversion, and downconversion. We checked out the technology at DVDO's booth and got a first-hand demonstration of what it can do and how well it performs.
The DVD-5910 also features Denon Pixel Image Correction (DPIC), exclusive 10-bit correction circuitry that samples a total of nine pixels to detect the impact of a "target" pixel, then process in vertical, horizontal and diagonal parameters and separates algorithms for brightness and color.
Noted Denon Marketing Manager Jeff Talmadge, "When contemplating the DVD-5910, our engineers put aside virtually all conventional wisdom in DVD player design. Instead, they asked a simple question 'How do we create the world's finest home entertainment source component?' Their solution was to utilize a host of advanced image and audio-enhancement technologies normally found only in professional components, such as the renowned Realta/HQV chip from Silicon Optix, as well as the most advanced DVDO scaling technology and more. All these technologies were integrated into a uniquely designed universal player that brings new meaning to home entertainment quality, flexibility and performance."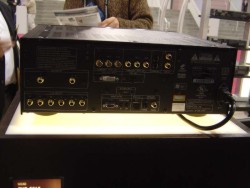 An abridged list of features and specs:
DVI-D (HDCP) and HDMI digital video outputs (simultaneous with component video and other outputs!)
Two component video outputs (BNC and RCA)
S-video and two composite video outputs
Two IEEE 1394 ports
Coaxial and optical digital outputs
Multi-channel analog audio outputs
DVD-Audio/SACD suport with discrete circuitry
Realta/HQV chip from Silicon Optix
10-bit Precision Video Scaling™ technology from DVDO
As mentioned above, the DVD-5910 features simultaneous video output capability (DVI, HDMI, component, progressive, S-video and composite!) In addition, an RS-232 port and remote in/out ports provide two-way integrated system control, facilitating its use with third-party system controllers such as Crestron and AMX, and in whole-house multi-room audio/video applications.
The DVD-5910 features full digital bass management for DVD-Video, DVD-Audio and Super Audio CD discs provided by dual Analog Devices Hammerhead SHARC processors, along with built-in Dolby Digital and dts surround sound decoding. Independent PCM and DSD decoders are included, along with leading-edge 24-bit/192kHz audio D/A converters and the latest version of Denon's exclusive Advanced AL24 Processing circuit, which now operates in 24-bit/192kHz on all channels, using sophisticated interpolation algorithms and digital filtering to improve low-level resolution and dynamic range.
The player provides two IEEE 1394 ports. Like all Denon Universal DVD players, the DVD-5910 offers playback of both DVD-Audio and Super Audio Compact Disc (SACD) playback, plus CD, CD-R/RW, DVD+ and -R/RW and MP3-CD playback. In addition, the DVD-5910 provides compatible playback of WMA (Windows Media Audio) encoded CDs, as well as JPEG, Kodak and Fuji Picture CD discs.
The DVD-5910 joins Denon's existing line of DVD players, including the universal models DVD-3910 (SRP: $1,499) and DVD-2910 (SRP: $699) as well as two new high-performance, high-value players, the DVD-1910 (SRP: $269) and DVD-1710 (SRP: $179).
The SRP of the DVD-5910 is a hefty $3,500 ad the unit should be available in February 2005.