Denon AVR-5805 Demo with Audyssey Room Correction
Filed under: Technology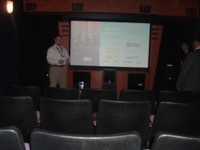 Denon AVR-5805 Demo with Audyssey Room Correction
Denon's Matt Good begins his 40th something demo of the awesome Denon AVR-5805 ($6000, January delivery) mid-morning on Saturday, the third day of the show. The Denon home the ater demo setup was as good as most but the interior ambient noise level still me asured a quite loud 67dB. Figuring peak levels during the demo maxing at around 115dB for a few milliseconds and you're looking at only 48dB of dynamic range. This is why we Audioholics like to hold off on more completely assessing the sound quality, a unit's functionality and other performance parameters until we get review unit into a typical home environment.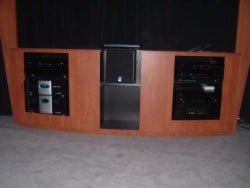 This Denon 7.1 demo was also my second opportunity to hear Audyssey's MultEQxt set-up and room correction system. Denon had installed M&K ST150 LCR's up front and had dual M&K ST350 subwoofers handling the bass duties. The M&K's which are well regarded references for mixing music and films were an excellent choice for attaining the flat, honest frequency response I believe Denon was looking for. Briefly evaluating the Denon room's very typical-for-a-show-booth acoustics I guessed the room's RT60 reverberation time to be even lower than virtually perfect RT60 = 0.3 milliseconds of USC's Immersive Audio Laboratory where I had first heard the Audyssey do its magic. Note that this is not meant to fault Denon's booth designer. There are very few companies outside those specifically taught by CEDIA trainers who understand the proper placement and proportion of absorptive and reflective materials within a room in order to reach an RT60 which me asures between 0.2 and 0.4 milliseconds. Most display designers are like typical consumers in this regard. That is, they will overdamp a room thinking that this will give the best acoustics while also sometimes believing that an over damped room will have better isolation from the sounds of the outside world. Room treatment and room isolation; they're two completely different animals and need to be treated as suc
Okay off the soap box and onto the sound. I purposely sat exactly between the center channel and right channel speaker in the first row so I could evaluate the change of the sound stage from left to right, if any, with the Audyssey MultEQ engaged, then disengaged. In my short demo back at USC with Chris Kyriakakis and Tom Holman I had had the center position so I was anxious to see if Audyssey's " every-seat-a-good-seat " claim was true. I judged this to be a particularly difficult test of the Denon/Audyssey system because of the widely disparate distances involved. From my listening position to the front speaker plane was about 10 feet and the distance between the center channel and right front speaker was about 8 feet. This put the left front speaker around 14 feet away and at around a 40 degree angle off-axis from my listening position. (The M&Ks were only very slightly toed in toward the center of the room, probably less than 5 degrees.) On this test the Denon/Audyssey system performed polar response magic! Dialogue from the far left front speaker was down very slightly in level from the center and right channel speakers right in front of me. But every word spoken was just as intelligible as if you were in the front-and-center audiophile money seat. Amazing!
When Matt switched the Audyssey back out again the left channel dialogue all but disappeared. My conclusion of this aspect of the sound? Denon/Audyssey's every-seat-a-good-seat algorithms can bring to affordable home theater the no-sweet-spot whole-theater vocal intelligibility (and hopefully musical articulation) previously available only in the finest mega buck home theaters tuned by the best acousticians in the business. I have heard this effect only once or twice before in my experience. But that was with two channels, in a nearfield pro-audio monitoring situation. What I have never experienced, with a third, far off-axis speaker now involved, is such clarity and natural sounding, harmonious balance of a three-speaker front soundstage. Other "effects" of the Denon/Audyssey within what might be considered an overly absorptive listening environment were quite enlightening. DTS had supplied exhibitors and the press with an excellent demo DVD-Video called Surround.9 . There is a terrifying sequence on the Kill Bill Volume 2 clip in which Uma Thurman is buried a live in a wooden pine coffin. As with most of Quentin Tarantino's movies, the sound effects are way over the top, sort of like Foley-effects on steroids. In the coffin scene, Uma Thurman is laying terrified in the coffin as nails are hammered, in full surround, a round the coffin's perimeter. The initial impact of the claw hammer blows on a 16-penny nail, metal-on-ringing-metal, could be heard to have an extremely strong, clanging initial impulse followed by ringing harmonics whose final tails were somewhat a bruptly truncated, silenced by the overly a bsorptive qualities of the demo room. This truncation of the last bit of harmonics which we all know are present in a similar real life situation (the hammer and nails, not the coffin) wa s my clue that the Denon/Audyssey system weaves it's magic almost perfectly, without inserting any personality of its own. This system is analytic as all get out. Reference quality reproduction. As good as the tuning of the room would allow. Peering over at Gene during this demo I could see an a lmost nauseous look on his face indicating to me that this demo was almost too lifelike for his tastes.
For the remainder of the demo I turned my attention to listening to the quality of the Foley effects themselves as well as the talents of the film sound editor. I must stress that being able to actually listen this deeply into the construction of a film's sound effect's is almost impossible within a home environment, so deleterious are the usual effects of an un-corrected room. In this demo of Kill Bill Volume 2 it is possible to hear how suburb Foley effects, mated with meticulous sound mixing can produce such an audio event.
This level of reproductive sound accuracy is a tribute to the Denon engineers in designing an incredibly accurate tracking scheme for not only the DTS audio section of the AVR-5805 but for all the circuitry required to transport the DTS signal so transparently from input, through the MultEQ room correction circuitry and out to the speakers. The Audyssey MultEQ system, in this, my second short listen, may be on its way to being considered one of the biggest breakthroughs in reproduced sound within the home in the history of audio. It is that good!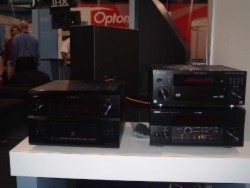 The AVR-5805(right) standing mightily against the Yamaha and Pioneer Elite flagship receiver stacks (right) at the THX booth)
The Denon AVR-4806 is due out in April. I hope to get one of the first samples into my more typically reverberant living room system as soon as samples become available. I can't wait to see what the Denon/Audyssey will do in that situation. The video portion of Denon's demo featuring the new DVD-5910 with Realta/HQV chip from Silicon Optix was equally impressive. Stay tuned for a separate report on that demo shortly.