Carver Digital HTA 5.1 Amplifier
Filed under: Amplifiers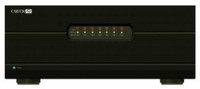 You may remember that Phoenix Gold International purchased the Carver Professional division in 1995. Last year, they acquired the marketing assets of Carver Corporation, including the name, with the goal of rebuilding the brand. Phoenix Gold International, Inc. has now announced the formation of Carver Digital, a major new division dedicated to developing and marketing innovative premium audio products.
Carver Digital introduced a line of new audio products, many incorporating the latest digital technologies. The new Carver line will be sold through specialty shops which also provide upscale custom home theater installations. Carver Digital will be positioned between Phoenix Gold's Carver and Carver Professional divisions, and offer products priced from the mid to high end of their categories.
The first Carver Digital product introduced was the new multi-channel HTA 5.1 Home Theater Amplifier that features 200 watts per channel for five or seven (modular) channels of surround sound.

The HTA 5.1 is ideal for use in audio and Home Theater systems, as it features an efficient Class H power design and a high-current, modular configuration that minimizes power loss and allows cool operation.

The amplifier can be configured for five channels and expanded to seven. In five-channel mode, it delivers 200 watts per channel into 8 ohms, 300 watts into 4 ohms, and 400 watts into 2 ohms, each with less than 0.15 percent THD. Power handling at the 2-ohm level is completely stable. At seven channels, the HTA 5.1 can deliver 200 watts per channel into 8 ohms. Frequency response for the amplifier is 20 Hz-20 kHz +/- 0.1 dB, or 10 Hz-100 KHz +/- 3dB. The signal-to-noise ratio is - 100dB, unweighted.

The amplifier's True Card cage design accommodates up to seven mono block power modules that are on nylon rails, and feature low-noise toroid power transformers with high-speed rectifiers. Additional features include, transparent soft clip circuitry, soft start circuitry, a soft touch power switch for silent turn on/turn off, signal- and remote-sensing automatic turn-on. Aluminum capacitors provide reliability, and a quiet fan provides cool operation.

The amplifier's LED displays include channel status indicators for Standby, Operate and Fault. Connections include both balanced XLR and unbalanced RCA inputs. The HTA 5.1's chassis occupies five rack units and features a milled aluminum faceplate.

Carver Digital's HTA 5.1 Home Theater Amplifier will be available in spring of 2005 at a suggested price of $2,995.