Canton Vento Loudspeakers
Filed under: Loudspeakers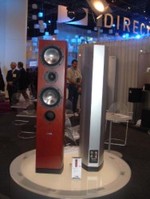 Canton has introduced a line of high-end music and home theater speakers called Vento. Named after the Italian word for 'wind,' this four-model line features gracefully curving cabinetry and rugged, pressure-laminated monocoque construction. The cabinets look nice while said to provide superior stiffness and sonic neutrality compared with flat sided speakers. This new cabinet design, coupled with significant improvements to the transducers and crossover network, results in a line of speakers with high output levels, extended treble and bass response, and low distortion levels.
The Vento line's curved panels are made from a thick, six-layer laminate of wood and wood fiber composites molded one layer at a time under very high pressure to create an incredibly stiff and sonically neutral enclosure. The outer layer is finished with either cherry wood or silver lacquer.
The Vento line consists of four models: Vento 809 DC, a large full-range three-way floor-standing speaker system; Vento 807 DC, a smaller full-range three-way floor-standing speaker systems; Vento 802, a compact two-way pedestal speaker; and Vento 805 CM, a 2-1/2-way center channel speaker. All four models are bass-reflex designs with front ports on the floor-standing models, and rear ports on the others. The two floor-standing speakers use Canton's proprietary Distortion Control circuitry for exceptionally clean bass response. These two also use an isolation base system that was developed for Karat Reference to prevent vibrations from traveling into the floor.
In Vento, Canton has made several significant improvements in its drivers and crossover design that help this speaker to set new standards for sound quality and performance.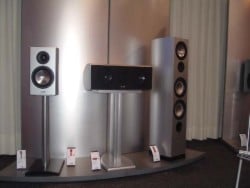 One of the key elements in these speakers' natural sound reproduction is their use of the newest variant of company's ADT-25 one-inch aluminum-manganese dome tweeter. This powerful driver varies from earlier versions with a new flared front plane which acts to improve high frequency dispersion, off-axis linearity and to boost efficiency by 2- to 3-dB. The driver also uses a new surround design that allows the system to operate at higher frequencies without break-up or distortion. Like earlier tweeters, the Vento's uses Canton's signature one-piece aluminum-manganese tweeter dome and voice-coil former. By combining the dome and former in one piece instead of two, this tweeter provides superior high frequency performance and allows the dome to function as a heat sink for the voice coils.
The 7-inch driver, which is used as the midrange on the Vento 809 DC and as both a midrange and bass driver on the others, has an aluminum cone with a concave dust cap, and a powerful magnetic system. The wave system (cone, dust cap, and surround) is modeled on that used in the Karat Reference line but with a new cone shape, improved spider, and a totally new sinusoidal surround. These changes, plus refinements in the magnetic system result in a 30- to 40-percent improvement in excursion range and increases output by 3 dB.
The two 8-inch woofers used on the Vento 809 DC are Canton's largest aluminum cone drivers. They have new sinusoidal surrounds, improved speaker coils, and new double-ferrite motor for improved excursion linearity, higher output levels and low distortion. The bass performance of the Vento 809 DC and Vento 807 DC are further enhanced by the use of Canton's signature Displacement Control technology, which eliminates unwanted excursions below the normal operating frequency of the speaker, and especially infrasonic oscillations. DC technology also provides a strong boost in low-end response, and dramatically reduces harmonic distortion.
The Vento 802 is a two-way bass-reflex design with a rear port. It is ideal for pedestal mounting in a compact stereo system, or as a surround speaker in a home theater. The Vento 805 CM center channel speaker is a 2-1/2-way bass-reflex design with a rear port, and it has been optimized for horizontal mounting. The driver magnets have computer-optimized magnetic shielding. A curved base allows the speaker to be tilted up or down to suit acoustics.
These new loudspeakers will be available from Canton dealers in January with suggested retail prices of $5,000 per pair for the Vento 809 DC; $3,500 per pair for the Vento 807 DC; $2,000 per pair for the Vento 802; and $1,500 each for the Vento 805 CM. They are each available in cherry wood veneer or silver lacquer finishes.
For more information please visit www.cantonusa.com .