Axion LCD TV/DVD Combo Displays
Filed under: Displays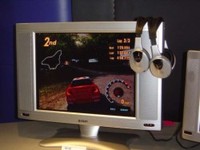 Axion announce its new line of LCD TV/DVD Combo players at the Consumer Electronics Show and featured a whole wall covered in their new displays. This new LCD TV/DVD Combo line with screen sizes from 8" to 20" and is one of the most comprehensive available today. A nice extra - Axion Combos are backed by a full one-year warranty on parts and labor with free technical support.

Axion LCD TV/DVD Combo units seem perfect for people who want the advantages of a DVD player but do not want to spare the extra space (and perhaps costs) associated with additional components. Each model features high quality TFT LCD panels, stereo speakers and provides 181 cable ready channels.

Key features include:
High Brightness/Contrast TFT LCD Screens
4:3 and 16:9 Wide Screen Models
Supports DVD, CD, MP3 and VCD formats
DVI - PC Monitor Input (on select models)
Full On Screen Display (OSD)
AC/DC Power Options
Detachable Stands w/VESA Mount
Remote Control for TV and DVD Player
"We are very excited to have the most complete line of combination LCD TV/DVD products available today. LCD/DVD Combos represent a key growth area in the market and consumers should consider Axion first" said Afshin Behrouz, Director of Sales, Axion.

In addition to the LCD TV/DVD Combo products, Axion also presented Axion LCD TVs, Portable LCD TVs, Portable DVD players and MP3/Portable Media Players at the show.

For more information about Axion, please see our website at: www.axiontv.com .