Audioholics Product of the Year Awards
Filed under: Miscellaneous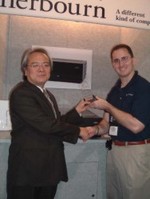 While we were at CES this year, we handed out the Audioholics Product of the Year Awards to the manufacturers who simply made remarkable in-roads and progress towards home theater excellence in 2004. Below is a pictoral gallery of the actual awards we gave out at the show.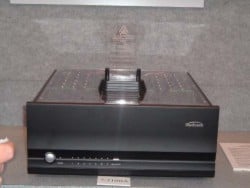 Gene gives Engne Tang, Design Engineer for Sherbourn Technologies an award for the Sherbourn 7/2100A 200W x 7 amplifier. Read our review .
Richard Schram receives an Audioholics Product of the Year Award for his Parasound Halo A 21 two-channel 250W amplifier. Read our review .
Yes, we wanted to give the DVD-5910 an award already just based on its specs, but that woudl be silly until we actually review it. Here, Jeff Talmadge receives Denon's award for the very impressive DVD-3910 DVD player . Read the feature report .
Denon won two awards this year with its excellent AVR-3805 receiver which really made an impression on our staff. Here, Gene gives the award to Jeff Talmadge, congratulating them on such a great product. Read the review .
Steven J. Caldero, Vice President of Sales received the award for the Yamaha RX-Z9 receiver which proved to be more than a match for separates solutions in its price class available on the market today - in terms of delivered power, performance and features. This flagship receiver really stole the show for 2004. Read the review and was a hard unit for Gene to let go after his review was completed.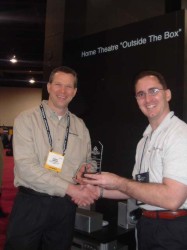 Kevin Zarow, Director of Marketing and Product Development for Marantz America was on hand to graciously accept the award for the Mordaunt-Short Avant Premiere Plus system we reviewed earlier this year. This small form-factor system is priced and designed to be an excellent product for those looking to get the best possible sound out of a small package. Read the review .