3LCD Group Unveiled
Filed under: Technology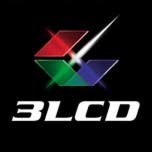 Five of the world's leading and most-recognized consumer and business electronics manufacturers - Fujitsu, Hitachi, Panasonic, Sanyo and Sony - have joined forces with Epson, the country's leader in digital imaging solutions, to educate consumers and video display professionals about the significant benefits of three-panel liquid crystal display (3LCD) technology. The 3LCD Group was unveiled at the recent International Consumer Electronics Show (CES) 2005 held in Las Vegas.
"3LCD is clearly the dominant microdisplay technology worldwide when you look at the total number of customers who have purchased front an rear projection products so far,'' according to Dr. William Coggshall, Pacific Media Associates. "Based on our calculations, over nine million projection products using 3LCD technology have been purchased to date, surpassing any other microdisplay technology on the market, and that figure continues to grow at a rapid pace.''
As this technology continues to advance and the overall number of 3LCD product offerings continues to expand over the next several years, the 3LCD Group's mission will be to educate consumers and professionals about its benefits through promotional activities, product demonstrations and industry news updates. Furthermore, it will communicate the feature of 3LCD technology that make it unique to other display systems on the market.
"The explosive popularity of high resolution digital video formats such as DVD (digital video disc) and HDTV (high-definition television), along with a steady increase in projection-based business applications, have contributed to a massive surge in demand for front projectors and large-screen televisions, said Kazuhiro Kaizaki, president of Hitachi Home Electronics. "And, as the number of products has increased dramatically, so has a new level of confusion among shoppers and AV professionals who are trying to sort through an overwhelming selection of display technologies. We're very excited to be working with these major manufacturers who share our vision in a unified program that will help the industry better understand the benefits 3LCD technology and why it serves as the foundation for so many reliable, next-generation, high definition products.''
In addition to the 3LCD Group's official unveiling, several other promotional elements and activities will be introduced that will be shared among participating companies, which include a 3LCD logo that will appear prominently on new products featuring this technology, and in industry-wide marketing materials, as well as the launch of an educational Web site, www.3lcd.com . The Web site will not only highlight the benefits of the technology in general, but also communicate how 3LCD projection actually works through detailed text and illustrations, showcasing the ever-growing array of 3LCD products on the market and providing 3LCD-related news and product announcements across the industry.
The 3LCD Group is also producing collateral materials and advertisements for consumers and industry professionals that further reinforce many of the core benefits of 3LCD products as shown at CES.
For more information, please visit www.3LCD.com .