Yamaha YSP-800 and YSP-1000
Filed under: Loudspeakers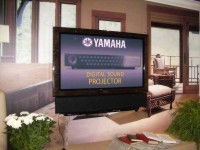 Yamaha Electronics demoed and displayed two new components it added to its revolutionary Digital Sound Projector line: the YSP-1000 and YSP-800. These new successors to the YSP-1 form a complete high-end to low-end lineup that sandwiches the original sound projector.
Yamaha's first digital sound projector, the innovative YSP-1, was nothing short of an audio breakthrough, offering a convenient way to achieve multi-channel surround sound from a singel unobtrusive source component. The YSP-1000 and YSP-800 employ the same Digital Sound Projector technology as the YSP-1 and have been upgraded in both sound quality and functionality.
In case you haven't yet read Audioholics' review of the YSP-1 , the Digital Sound Projectors include a delay-controlled digital amplifier for each driver, to create "beams" of sound that are precisely aimed for optimum surround sound effect. These focused beams produce direct and reflected sound waves that provide true multi-channel surround sound, as well as stereo and three-channel sound. The YSP-1000's 40 sound beam drivers are each powered by their own digital amplifiers.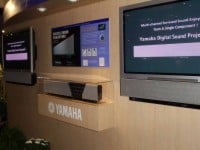 Both the YSP-1000 and YSP-800 incorporate an Automated System Calibration that adjusts the beams of sound, and now include Yamaha Parametric Room Acoustic Optimizer (YPAO) technologies to provide automatic setup (a more difficult setup process on the YSP-1 prompted Yamaha to include auto calibration and setup on the latest models). The YSP-800 and YSP-1000 now find the best beam angle by channel at the listening position, all at the touch of a button. The entire process takes less than three minutes. Manual setup is, of course, still possible as well.
The Yamaha Digital Sound Projector's elegant design can match just about any display, but they look absolutely perfect with flat panels. The YSP-1000 is a perfect match with a 42" wide display, whereas the YSP-800 is designed as a more compact version to function with smaller size displays. The components can be wall-mounted by using the optional bracket to save space and complement the room, or can be placed nicely in or on top of an AV rack or TV rack. It goes without saying that the Digital Sound Projectors are an excellent solution for video enthusiasts who opt to build home theater systems around large flat-screen TVs and desire a neat, uncluttered, unobtrusive system to match the interior of a room.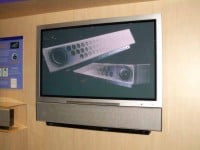 The newest Digital Sound Projectors remain fully compatible with the latest Dolby Digital, DTS, Dolby Pro Logic II and DTS Neo:6 surround sound formats, and include three CINEMA DSP category surround sound programs, Movie, Music and Sports. In addition, both components include "Target Beam Mode," which focuses one sweet spot for best listening anywhere in the room; Night Listening Enhancer with Cinema and Music modes; TV Equal Volume mode to prevent sudden bursts of loud sound when watching TV; TruBass; and preset remote controls.
The YSP-1000 provides two component video inputs and three composite video inputs, and provides custom installation features such as IR pass through, IR in, and an RS-232C terminal for custom control integration. Both the YSP-1000 and YSP-800 are available in silver and black versions to match the latest video display cosmetics.
Wall mounting brackets are also available (SPM-K1 for YSP-1000, SPM-K8 for YSP-800) for each component.
The YSP-1000 (MSRP $1699.95) available in October '05 and YSP-800 (MSRP $899.95) will be available in September '05.
For more information, write Yamaha Electronics Corporation, P.O. Box 6660, Buena Park, CA 90622; telephone (714) 522-9105; e-mail infostation@yamaha.com; or visit www.yamaha.com/home .