Yamaha RX-V2600 and RX-V1600 Receivers
Filed under: Receivers & Processors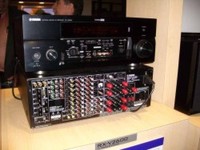 Yamaha Electronics Corporation introduced the RX-V2600 and RX-V1600 - the world's first receivers in their class to offer 2-in/1-out HDMI switching with up-conversion features. This process provides the most advanced method of delivering high-quality video to a home theater system that allows the user to enjoy DVD and satellite TV with HD quality. Compatible with the HDMI Ver. 1.1 format, they can also decode digital audio signals including DVD-Audio, PCM, Dolby Digital and DTS.
Both receivers allow video composite, s-video and component signals to be up-converted to HDMI output, with a TBC (Time Base Corrector) that stabilizes the video signal. A video de-interlacer superior to any other in this class of receiver effectively delivers best-quality progressive video images. The RX-V2600 can convert 480p signals to HD resolutions (720p, 1080i), and is the first and only receiver in its class to offer the benefits of superior up-scaling technologies. These models also include HDTV (720p/1080i) compatibility via a component video upconversion feature, which can upgrade composite and s-video signals to component video format for ease of installation.

The receivers allow users to plug an XM Connect-and-Play home antenna and activate the XM Radio service to receive more than 150 news, sports and entertainment digital radio channels. The XM Connect-and-Play home antenna is capable of receiving XM's satellite and terrestrial signals as well as channel tuning, decoding and audio transmission. It is the only accessory needed to receive XM Radio through the Yamaha XM-ready AV receiver.
For multi-room custom installations, power amp channels can be assigned in two ways:
The first uses five channels for the Main Zone and two channels for Zone 2, for enjoying 5.1-channel sound in the main room.
The alternative would be three channels for the Main Zone and two channels each for Zone 2 and 3, allowing users to enjoy music in all three rooms without the need for extra amplifiers. Music can even be heard in Zone 4 by using the Speaker B output function.
Other features include Main/Zone 2/Zone 3 power switches on the front panel, a Zone Control button for source selection and volume adjustment, Zone 2/3 on-screen information display (RX-V2600 only), Zone 2/3 tone controls, RS-232C interface for an AMX/Creston touch panel controller and a separate Zone Remote Unit.
Worthy successors to the RX-V2500 and RX-V1500, the mid-priced RX-V2600 (130W x 7) and RX-V1600 (120W x 7) feature powerful 7-channel amplification and employ Yamaha's Digital ToP-ART (Total Purity Audio Reproduction Technology) design concept to maximize digital sound quality, with several operation modes that provide short, direct signal paths for even greater sound clarity. For true audiophiles, Yamaha's upgraded Pure Direct Switch now has a zero Intermediate Frequency (IF) and low-jitter Phase-Locked Loop (PLL) circuit, and provides high quality stereo sound reproduction.
Yamaha Parametric Room Acoustic Optimizer (YPAO) simplifies the home theater setup process by automatically analyzing room acoustics and setting parameters for optimum sound quality at the listening position, all at the touch of a button. The entire process takes less than three minutes. Six YPAO settings can be stored in the receiver's memory.
The digital home theater receivers feature a dynamic surround sound performance through a choice of 22 (RX-V2600) and 19 (RX-V1600) surround programs including all the Dolby and DTS formats, CINEMA DSP programs, HiFi DSP programs and five THX programs including Select2.
In addition, the RX-V2600 has an On-Screen GUI Display, which makes operating the receiver easy and intuitive. Five languages, including Spanish, are available.
Pricing and Availablility
The RX-V2600 (MSRP $1,399.95) and RX-V1600 (MSRP $1,099.95) will be available in October.
For more information call (714) 522-9105, e-mail infostation@yamaha.com , or visit www.yamaha.com/home .