Yamaha DVD-C950 Universal Changer with HDMI
Filed under: DVD/HD-DVD Players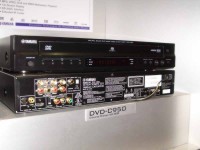 The DVD-C950 5-disc changer featuring Yamaha's patented PlayXchange, is compatible with both DVD-Audio and Super Audio CD. The DVD-C950 offers progressive scanning of both NTSC and PAL signals, and has DCDi circuitry that detects type of picture sources and selects optimal processing accordingly, eliminating jagged edges that generally appear in moving images when interlaced video is converted to progressive. 3:2 pull-down is automatically applied when necessary. The DVD-C950 also has HDMI, an advanced version of DVI (Digital Video Interface), which provides superb video quality, much better than a component connection. It provides 480p, 576p, 720p and 1080i digital video output capability. The DVD-C950 will play almost any type of formats including Super Audio CD, DVD-Audio/Video, Super Video CD, Video CD, Picture CD, Audio CD, MP3, JPEG, DivX and WMA, as well as discs with DVD+RW/+R (Video/VR format), DVD-R/-RW (Video format), CD-R/RW.
Other Notable Features include:
JPEG/MP3 Simultaneous Playback for Slide Show
CD Text Display
3-Step Dimmer
Screen Saver
Resume (10-Disc Memory) Play
Disc Lock Function
Multi-Angle, Multi-Aspect, Multi-Language and Multi-Subtitle Capabilities
Dimensions (W x H x D) 17-1/8" x 2-15/16" x 16-3/4" (435 x 75 x 425mm)
MSRP $549.00
For more information, visit www.yamaha.com .