Velodyne MiniVee Subwoofer
Filed under: Loudspeakers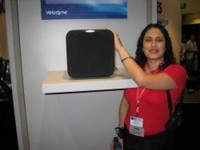 How many times has your significant other said " you are not putting that there" ? Fear not, for Velodyne has the perfect solution to your bass management dilemmas. They have heeded the calling of all bassaholics alike, while at the same time manufactured a nearly 100% Spouse Approved subwoofer package which requires roughly a 10" x 10" x 12" space in your room.
Make no mistake, this is no girlie man sub. With 8" Kevlar reinforced driver and a 12.7lbs magnet powered by a 1000 watt amp, this sub is likely able to launch Mini-Me or small furry critters into orbit with aplomb.
Driver:
8" (6.5" piston) forward firing
Kevlar reinforced resin cone
2 ½" dual layer voice coil
die-cast aluminum basket
Amplifier:
2000wpc dynamic, 1000 wpc RMS
Frequency Response:
28Hz - 120Hz
Magnet Structure:
204oz (12.7lbs)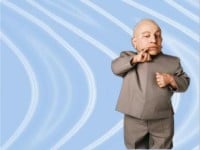 Size:
10.063" x 10.375" x 12.75"
Weight:
35lbs
As you can see, this little sub scored high marks with our Spouse on hand. As for Mini-Me, he will get back to you when he lands. In the meantime, make sure to keep your pets on a leash while playing a DVD using the MiniVee.