Velodyne In-Wall Subwoofer
Filed under: Loudspeakers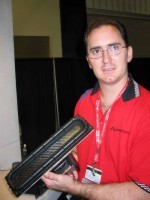 Velodyne showed off its new In Wall Subwoofer which uses a unique system to fit within the confines of a typical 2" x 4" wall. The driver itself is a narrow configuration that has the equivalent surface area of a 9" cone. In fact, the unit is stated to have the same output capability as the SPL-1000R. The subwoofer, when installed, fires downwards along the wall studs. Velodyne utilized this methodology (patent pending as of the day of the show according to Velodyne President Bruce Hall) to reduce vibrations and wall rattling.
The driver itself sports a 3" voice coil that fires almost piston-like from within a neodymium magnet structure. The driver has a dual spider and is installed in 3 easy steps. First, the cabinet module is installed using 8 drywall screws. Next, you wire the Velodyne amp to the cabinet module. Lastly, you finish the wall leaving a 14" x 14" opening in the drywall which gets covered by a perforated grill. The enclosure itself is made of a very rigid composite of three sandwiched layers capped by 1mm aluminum on each side. The result is a material that is very thin but has the strength of about 1" MDF according to Bruce.
Pricing is tentatively set at around $3000 for two driver systems (recommended) and the 2-channel (1000wpc x2) amplifier. You can also purchase a single driver system with a 1000wpc amplifier for $2000. Product is estimated to ship around late Spring of 2006.
For more information on Velodyne products, please visit www.velodyne.com .