Terra AC.SUB All Climate Subwoofer
Filed under: Loudspeakers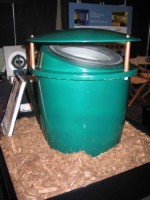 Designed for flexible placement and all climates, the AC.SUB employs two chambers. The lower chamber houses an active 10" ACAD bass driver with a high-power two-inch voice coil and Terra's Magnetic Fluid Centering System (MFCS). The upper chamber houses a passive 12" ACAD cone, placed at an angle to eliminate standing waves. The passive radiator allows the active driver to perform as if it were in a vented enclosure, maximizing bass output yet maintaining a sealed design that is impervious to moisture and particulate matter.
The Terra Drived does away with the spider entirely, instead using a special magnetic fluid that guided the voice coil and keeps it centered within the gap. Particularly at high output levels, the greater precision of the MFCS reduces nonlinearity and also permits longer cone excursion for greater output. MFCS is immune to harsh outdoor environments, won't degrade over time and cools the voice coil so it can handle more current.
The AC.SUB specifications include:
Passive design
Conxall watertight connector (optional)
Frequency response: 26Hz - 115Hz +/- 3dB
Impedance: 8 Ohm nominal
Sensitivity: 87dB (1 watt/1 meter)
Power handling: 200 watts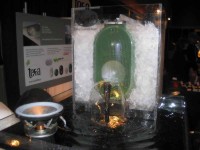 Terra had an impressive display of outdoor speakers in a number of harsh environments. All speakers were operating regardless of whether they were submerged in ice or under a heat lamp. For more information, visit www.terraspeakers.com .